Get A Look At A Lonely Place For Dying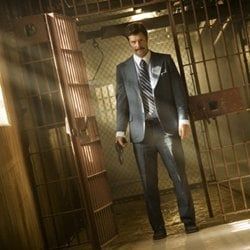 A Lonely Place for Dying is a wonderful title for a movie about guys toting guns-- it sounds like it could be some old film noir, or a line uttered by a bad guy who had a change of heart at the last minute. And the plot of the movie sounds great too-- it's a true story about KGB defector who tries to get into the U.S. in 1972 by providing secret information about the war in Vietnam.
So why do the first images from the movie, posted by Moviehole, look so generic? James Cromwell is the only known star of the film, but he's not in any of the stills. Instead they all seem to come from the same scene, in which a guy in a suit (maybe an American?) and a guy in a leather jacket (maybe the KGB guy?) point guns at each other. The poster, also over at Moviehole, is similarly stylish, with a similar lack of information.
I like the panache shown in these stills, and think the movie will be something worth looking forward to. But I wish they'd give us a little something to go on-- I don't even know which of the unknown stars-- Ros Marquand, Michael Scovotti and Michael Wincott-- I'm seeing in these stills. Give us a little more information, and you might get some genuine excitement out of me. Head to Moviehole for the full-size version of the poster you see below, as well as the uncropped stills.
Staff Writer at CinemaBlend