Ghostbusters Plot Gets Picked Apart With An Honest Trailer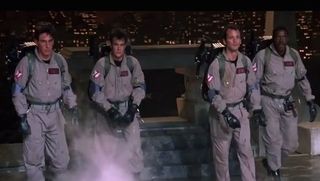 When it comes to their Honest Trailers series, Screen Junkies tends not to discriminate when it comes to the films they pick. Whether it's a recent blockbusters, a less successful film or a beloved classic, no movie appears to be out of bounds for the amusing trailers, which make it their business to tell the plot like it is. The latest to receive the Honest Trailers treatment is none other than 80s classic Ghostbusters.
"They've got the car, the gadgets and the vaguely scientific know-how to put evil in its place."
The Ghostbusters Honest Trailer picks apart quite a bit, poking fun at Venkman for being a "borderline sexual predator" to Winston's diminished role (and Eddie Murphy turning down the part) to the fact that the media makes a big fuss over the Ghostbusters busting ghosts left and right, and not so much about the fact that there are apparently ghosts running (eating, reading, driving and oozing) rampant all over New York City. All relatively valid points.
There's also the swearing, casual smoking, boob grabbing and ghost head, none of which would be found in a kids movie today. While many would likely argue that Ghostbusters wasn't a "kids movie," it was considered pretty kid-friendly back then, despite the content that's hardly appropriate for children by today's standards of "kid friendly." Still, some of the more adult bits of humor likely went over kids' heads. Maybe I was in the minority there, but I remember having no idea what was making Ray's eyes go crossed when that lady ghost was hovering over him.
Honest Trailers closes out the episode with a lesson for those too young to recognize one of the key settings of the movie. The library! It's like a printout of Wikipedia where you have to be quiet.
Ray: "Symmetrical book stacking. Just like the Philadelphia mass turbulence of 1947."
Venkman: "You're right, no human being would stack books like this."
Now we need an Honest Trailer for Ghostbusters 2.
If you haven't seen it already, be sure to check out the Captain America: The Winter Soldier Honest Trailer. And as mentioned, Honest Trailers does tend to dip into the classic from time to time. Check out some of the other films they've featured from yesteryear after the jump...
Kelly joined CinemaBlend as a freelance TV news writer in 2006 and went on to serve as the site's TV Editor before moving over to other roles on the site. At present, she's an Assistant Managing Editor who spends much of her time brainstorming and editing feature content on the site.
Your Daily Blend of Entertainment News
Thank you for signing up to CinemaBlend. You will receive a verification email shortly.
There was a problem. Please refresh the page and try again.