Go Balls To The Wall With Step Up Star Jenna Dewan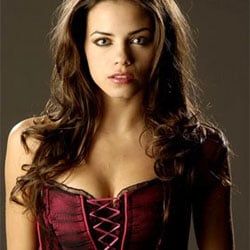 Hey, remember Jenna Dewan? Before there was Twilight, teenage girls obsessed over dancing movies, and for five minutes or so she was their queen. While her Step Up costar Channing Tatum has gone on to bigger and better things, Dewan has slipped into obscurity and cameos in the new Melrose Place. But her next movie has a funny title, so I'm reporting on it.
THR says she set to star in Balls to the Wall opposite some dude who did Got Milk? commercials. G.I. Joe this is not. It's about a boyfriend who secretly takes a second job as an exotic dancer in order to afford to give his girl (Dewan) the mega-wedding of her dreams. The strip club's called The Male Room, which actually was the name of a real gay club in my home town. While hanging out in the Male Room he discovers "talent he never expected". Is that code for "meet me at the glory hole"?
Your Daily Blend of Entertainment News
Thank you for signing up to CinemaBlend. You will receive a verification email shortly.
There was a problem. Please refresh the page and try again.