Godzilla Stars Aaron Taylor-Johnson And Ken Watanabe Talk To Us About Fat Shaming The Creature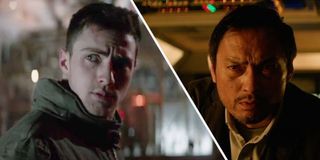 60 years after he made his screen debut, the great Godzilla has gotten a modern makeover for Legendary Pictures' Godzilla. By bringing the Japanese monster Stateside, there was bound to be some culture clashing. But who would have suspected it would take the form of monster fat shaming? The Japanese public have accused Godzilla of becoming an "American fatty," but his cast mates in Godzilla are coming to his defense.
This past weekend, I had the chance to sit down with Godzilla stars Aaron Taylor-Johnson and Ken Watanabe. We'll give you a fuller look at those interviews closer to the film's debut, but for now let's focus on the fat shaming of Godzilla.
Though news of these reactions had broken two days before, neither Aaron Taylor-Johnson nor Ken Watanabe had heard about them. Both were flabbergasted by the comments.
I clarified that it's not critics, but some people on Twitter responding to teaser images of the new Godzilla. Taylor-Johnson replied, "Of course I don't have any kind of comment to add to that ignorant response." He sighed, then said, "I don't know why people have to be that way, to judge and all that. That's good in a way. Let them have low expectations. It's always nice that way, to go into a movie and be surprised the other way around, you know?"
Taylor-Johnson went on to express his excitement at the film's debut in Tokyo, where he believes Godzilla will be embraced, not mocked, adding, "If people in Tokyo and the Japanese love it then you know, then we did right. Then we did good."
The British Taylor-Johnson also noted that Japanese star Ken Watanabe is a "huge supporter of this movie." And from my brief time with him, I'd agree. Watanabe relished being a part of Godzilla, and he flat-out laughed in disbelief when I read him some of the fatty comments. To fully understand his response, you'll need to imagine his full physicality. As subtle as his onscreen performances are, in person Watanabe has a big personality. He talks with his hands and occasionally mugs for effect.
So there you have it, haters. Big is brawny. Big is beautiful.
In the clip below, you can see one of Watanabe's finest moments, and a spoiler glimpse at Godzilla's biggest star.
Godzilla is coming May 16th.
Your Daily Blend of Entertainment News
Staff writer at CinemaBlend.