Golden Compass Finds Bacon, Bana, And Hurt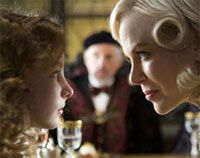 Eva Green isn't just a Bond babe, she's also one of the stars of what could be the next big fantasy franchise, a film adaptation of Philip Pullman's popular novels His Dark Materials. The first book, The Golden Compass is already being filmed, with Nicole Kidman and Bond himself, Daniel Craig in the lead.
The cast is already great, but Eva has hinted that it may be even better than we suspect. ComingSoon caught an interview with Eva in a French magazine in which she says that Eric Bana, Kevin Bacon, and John Hurt are joining His Dark Materials: The Golden Compass as well!
What's frustrating, is that there aren't many details to go along with the rumor. There's no suggestion of who they might play or where they may fit in. The film's primary parts have already been filled. It seems likely that if they are in the movie, their roles may be little more than glorified cameos. Still, I've love to see Hurt especially in this universe. He'd be a perfect fit in Pullman's world. Eric Bana can do just about anything, and for Kevin Bacon this would be his first mainstream movie since 2000's Hollow Man.
The Golden Compass is the story of a little girl and a shape-shifting companion in an alternate universe. They travels to the cold north in search of her friend while fleeing from her dangerous parents.
Your Daily Blend of Entertainment News
Thank you for signing up to CinemaBlend. You will receive a verification email shortly.
There was a problem. Please refresh the page and try again.