Grown Ups Director Rips Critics And Defends Adam Sandler In Foul-Mouthed Tirade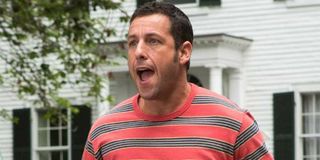 Adam Sandler has done it again. And by "it," we mean incite the wrath of movies critics everywhere. Pixels — his latest film under his Happy Madison production company — lost the top spot at the weekend box office to Ant-Man, currently sits at 18% from 104 reviews, and has taken a beating on social media. Despite this seeming failure of a film, however, Sandler has one person in his camp, Dennis Dugan, and he has some choice words for Sandler haters.
Dugan directed Sandler in Happy Gilmore before reuniting with the actor for Big Daddy, I Now Pronounce You Chuck and Larry, Grown Ups, You Don't Mess With Zohan, Jack and Jill, and Grown Ups 2. In other words, he's been hearing all the awful stuff critics have been saying about his films with Sandler for years. He's garnered quite a bit of animosity, and in a recent interview with The Hollywood Reporter for the anniversary of Problem Child, he let some of it out.
In response to Sandler's haters, he said,
As Ron Burgundy would say, "Well, that escalated quickly." Dugan is understandably frustrated by the growing tide of opposition because, at the end of the day, it's his films that we're talking about, too. However, it's difficult to make the argument that Sandler isn't "a shitty entertainer," given the overwhelming amount of disappointment. To Dugan's point, some of his movies did make enough money to somehow warrant sequels and keep him in a job. But that doesn't necessarily speak to the quality of his films. McDonald's is a widely successful fast food chain enjoyed by billions of people around the world. That doesn't mean it's any good for you.
It also doesn't help Adam Sandler's case that he basically admitted to Jimmy Kimmel during an interview for Blended that he basically chooses his film projects based on where he wants to travel. He wanted to go to Hawaii, so he pitched that 50 First Dates be set there. He wanted to go to Africa, so he made Blended. Whether or not this was meant as a joke, it certainly didn't help his cause.
Though Dugan didn't direct Pixels — that unfortunate title belongs to Harry Potter helmer Chris Columbus — it's the latest blunder from Mr. Happy Gilmore. Variety called it a "dimwitted '80s nostalgia trip," The New York Post said "you get the feeling the boys spent the nine-figure budget on trips to Hooters," and Rolling Stone called it "relentless and exhausting." Not what you would call glowing.
Your Daily Blend of Entertainment News
Thank you for signing up to CinemaBlend. You will receive a verification email shortly.
There was a problem. Please refresh the page and try again.