Would Adam Sandler Ever Make Happy Gilmore 2?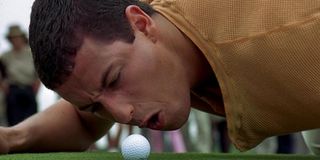 Despite becoming arguably the most bankable movie star of the 2000's, Adam Sandler will always be the star of Happy Gilmore to a segment of the movie-going public. While he has starred in an insane array of cinematic hits since that early comedy classic, a sequel, shockingly, has never surfaced. In a recent interview, Sandler gave his thoughts on the belated possibility.
In an interview with Screen Rant promoting his appearance in the upcoming alien invasion/old-school video game love letter, Pixels, Sandler fielded a question about potential sequels to either of his two watershed classics, 1995's Billy Madison and 1996's Happy Gilmore. Going by Sandler's rather unspecific answer, there seems to be serious reservation regarding the possibility of trying to make lightning strike twice for either property. As Sandler explains:
Yes, it seems that Sandler's Happy Gilmore just might be too good to go home for a sequel. The comments are certainly not the encouraging news that fans hoped to hear. It's odd considering that Sandler has a genuine love for those two films, even going so far as to name his company, Happy Madison Productions, in tribute to them. While Sandler doesn't exactly provide detailed insight into his mindset on the sequel idea, the source of his apparent reticence can be attributed to not knowing where to take the characters next.
It's an understandable point, seeing as each of those films heavily embedded Sandler's puerile, but iconic characters on their respective wacky premises of an adult going back to school for Madison and a bellicose ex-hockey player making the transition to the finesse sport of golf for Gilmore. Unfortunately, those scenarios are logistically one and done. Likewise, bringing those characters back to the table presents quite a challenge without having the narrative life preserver of those plot points. Would putting those characters in another scenario yield acceptance from fans of the original? For the likelihood of that scenario, most would say that the price is wrong… bitch.
Sandler's unease with these potentially crowd-pleasing follow-ups presents an interesting dilemma. Coming off last year's disastrous romcom reunion with Drew Barrymore, Blended, Sandler shifted his cinematic strategy towards a lucrative, exclusive four-film deal with Netflix. Paradoxically, it's both a testament to the prominence of his name and also indicative that he's at a point in his career where his once-reliable box office drawing power has lost its luster. Case in point, his inventive new starring effort, Pixels, seems to be marketed more as an ensemble piece, rather than being a proper Adam Sandler film.
Stars in Sandler's situation typically tend to go back to what brought them to the proverbial dance. Yet, he seems reluctant to jump on this potential payday, at least from an artistic standpoint. That could be seen as an encouraging sign that he is thoughtfully considering how his key films come across for posterity. Yet, with Sandler seemingly leaving the possibility of sequels slightly open, given the right idea, should Happy Gilmore fans dare to dream? Yeah, right. And Grizzly Adams had a beard. (… Wait a minute.)
Your Daily Blend of Entertainment News