Guardians Of The Galaxy 2 Was Trying To Make A David Bowie Cameo Happen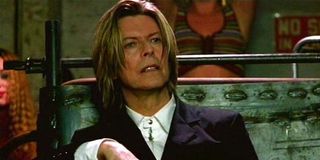 The world lost one hell of an icon over the weekend as rock star, actor, and all around cultural impresario David Bowie lost his battle with cancer and passed away at the age of 69. There are countless reasons to lament this loss (and just as many to celebrate his brilliant life), but there's one could-have-been that will now never come to pass that would have been just about perfect. As it turns out, Marvel wanted David Bowie to have a cameo in their deep space adventure Guardians of the Galaxy Vol. 2.
David Bowie's 1971 song "Moonage Daydream" was featured on the soundtrack for Guardians of the Galaxy in 2014, and when he took to Facebook to lament the rock star's passing, director James Gunn revealed that there could have been even more Bowie in Guardians of the Galaxy Vol. 2, saying:
How perfect would that have been? It doesn't sound like it was ever a real possibility, but goddamn, that would have been amazing.
In the early 1970s, David Bowie cultivated the otherworldly alter ego Ziggy Stardust, and made a nice second career in the movies putting his particular stylistic stamp on characters like the Goblin King in Labyrinth, an alien in The Man Who Fell To Earth, and even brought inventor Nikola Tesla to life in Christopher Nolan's The Prestige. In the deepest reaches of the galaxy where Star-Lord and the rest of the Guardians ply their trade, seeing a decked out David Bowie wandering around amidst the strange creatures would have been a natural addition to the Marvel Cinematic Universe.
We still might get some more David Bowie in Guardians of the Galaxy Vol. 2, at least on the soundtrack. James Gunn also revealed that he is trying to work another song from the 1972 album Ziggy Stardust and the Spiders From Mars into the sequel—though he also shared that the scene where he intended to use the track was cut from the script. He didn't share what song he has in mind, but did say they still have the rights, so it could very well pop us somewhere else, which would make Bowie the only artist to have a song on the soundtrack for both movies. Again, that seems entirely appropriate.
It's always sad to lose an artist who had such an impact on so many people around the world, but at least we have decade's worth of music and movies to remember David Bowie by. Guardians of the Galaxy Vol. 2 hits theaters May 5, 2017, though we'll have to wait and see if it includes another track from Ziggy Stardust.
Your Daily Blend of Entertainment News