Guardians Of The Galaxy 2 May Have Found Star-Lord's Dad, And He's Perfect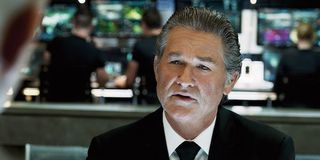 One of the things fans are looking forward to most about Guardians of the Galaxy Vol. 2 is learning who Peter Quill, a.k.a. Star-Lord's dad is. Although the character's identity is still a mystery (he will not be J'Son of Spartax like in the comics), with production on the 2017 blockbuster set to begin early next year, casting has begun on finding the actor to play the father. Now it appears that Marvel may have found their ideal candidate: Disney veteran Kurt Russell.
After coming out strong this year in Furious 7 and the soon-to-be-released The Hateful Eight, The Wrap is reporting that Russell is director James Gunn's choice to play Peter's enigmatic father. Although Russell has yet to be officially offered the role or read the script, meetings are set to take sometime soon. If cast, Russell would be the second new actor to be added to the sequel, following actress Pom Klementieff, who is rumored to be playing new team recruit Mantis.
Even without knowing exactly who Russell's character is, he would be a great fit for Guardians of the Galaxy Vol. 2. Depending on how Peter's father written, Russell could easily pull off the same kind of sense of humor Pratt's Peter has, which would make watching them riff with each other one of the highlights of the movie. It also makes sense that Marvel would want to bring aboard a big name actor rather than go with someone not nearly as recognizable. Of course, it's also possible that Peter's father isn't a benevolent figure, so if negotiations with Russell go well, it will be interesting to see whether he's simply a key supporting character or will get to stretch his acting legs as the movie's main villain.
In regards to the individual Russell may end up playing, it was recently rumored that he might be a heavily adapted Mar-Vell, but that was later debunked by Gunn. All we know for sure is he is the member of an ancient alien race, something that the Nova Corps "had never seen before." He was also conversely described as an "angel" by Peter's mother Meredith and a "jackass" by Yondu, who was hired to bring Peter back to his father, but decided to keep him with the Ravagers. Russell has proven before he can channel "jackass" well, so now would be his opportunity to do so in space.
2015 has been an eventful year for Russell. He appeared as Mr. Nobody in Furious 7 and Sheriff Franklin Hunt in Bone Tomahawk, and can be seen on Christmas Day as John "The Hangman" Ruth in The Hateful Eight. Although he hasn't previously appeared in a Marvel or DC movie, he does have superhero experience playing Steve Stronghold, a.k.a. The Commander, in 2005's Sky High. Russell's other notable credits include Big Trouble in Little China, Escape from New York, Tombstone and Stargate.
Guardians of the Galaxy Vol. 2 will be released in theaters on May 5, 2017.
Connoisseur of Marvel, DC, Star Wars, John Wick, MonsterVerse and Doctor Who lore. He's aware he looks like Harry Potter and Clark Kent.
Your Daily Blend of Entertainment News
Thank you for signing up to CinemaBlend. You will receive a verification email shortly.
There was a problem. Please refresh the page and try again.