Guardians Of The Galaxy, As Directed By JJ Abrams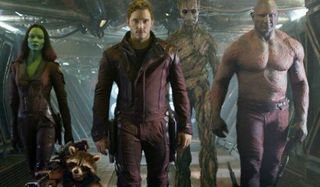 Ever since the world got its first glimpse of Star Wars: The Force Awakens, moviegoers across the globe have been talking about JJ Abrams. But what would the Star Trek Into Darkness director's version of Guardians Of The Galaxy have looked like? Well, because the internet is weird and wonderful someone has actually gone out of his or her way to reimagine the Marvel adventure as if it was directed by JJ Abrams. You can check out the faux trailer below. It's rather magnificent.
Rather than a slap in the face, this video is almost a tribute to Guardians Of The Galaxy's James Gunn. Of course, he did a rather sterling job overseeing the adventures of Peter Quill, Gamora, Drax the Destroyer, Groot and Rocket. In fact many moviegoers have even compared Guardians Of The Galaxy to George Lucas' 1977 sci-fi extravaganza, Star Wars Episode IV: A New Hope, and there are numerous similarities between the two films. No one would be taking the time to make all of these mash-ups if they didn't love the finished product.
Chris Pratt's Peter Quill/Star-Lord shares many of the same traits as Harrison Ford's Han Solo. Both are shady individuals with ties to the criminal underworld of the galaxy. They are also preposterously charismatic too. But it doesn't just stop there. Members of both ensembles are loveable rogues that start off as lone wolves and then ultimately bond together for the greater good. The Millennium Falcon, which was piloted by Han Solo, and the Milano, which was driven by Peter Quill, while different in design on the outside, possess interiors that look alike. In fact both ships were so cramped and tight they intimately brought each of the film's gangs together. Even the antagonists, Guardians Of The Galaxy's Thanos and Star Wars' Emperor Palpatine, are eerily similar too. In fact Thanos' original reveal in Guardians Of The Galaxy saw him sitting on top of a throne in very much the same style as the Sith Lord Emperor Palpatine did.
However there is one thing that Guardians Of The Galaxy does lack that Star Wars possesses: John Williams mesmeric score. John Williams is now an integral component of the fabric of cinematic history thanks to his work as a composer over the last 40 years. And the new trailer for Star Wars The Force Awakens truly became orgasmic once John Williams' music soared and appeared to power the Millennium Falcon through the sky.
Truly compelling stuff. We will finally learn if JJ Abrams has been able to revive the Star Wars franchise with The Force Awakens when it hits cinemas on December 18, 2015. It will have to be pretty damn good to eclipse James Gunn's efforts with Guardians Of The Galaxy though.