Guardians Of The Galaxy Has Another Mixtape, Here's What Was On It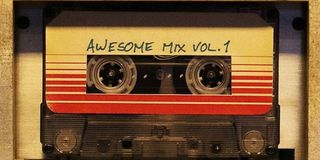 Given that it reached the top of the Billboard 200 chart and was certified gold after eight weeks on the shelves, it's safe to say that Awesome Mix Vol. 1 was one of the best parts of Guardians of the Galaxy. These songs were already classics, but the way they worked alongside the film's narrative was spectacular. The end of the film teased Peter Quill's new Awesome Mix Vol. 2 which we'll hopefully get to hear in Guardians of the Galaxy 2. But if you're looking for more music that helped shape the colorful sci-fi epic, there is another selection of songs crucial to the production that director James Gunn has revealed to the masses.
Earlier this week on his Facebook page, Gunn posted a listing of songs for what was originally called the Boot of Jemiah playlist, but is now officially titled Awesome Mix Vol. Zero. They are as follows:
Never Wanted to Dance -Mindless Self Indulgence
Party Hard -Andrew W.K.
The Way It Was -Aceyalone (ft. Bionik)
I Like It, I Love It -Lyrics Born
Let's Dance to Joy Division -The Wombats
Start Wearing Purple -Gogol Bordello
Ben Vereen -Pigeon John
Teenagers -My Chemical Romance
Black Fist -Juskwam and Lyrikill
Timebomb -The Old 97's
Production sound mixer Simon Hayes is the mastermind behind this unique compilation. Gunn explained that these songs were used behind the scenes to keep the up the energy of the extras during late-night shoots, specifically when filming scenes at the bar where the ragtag heroes got caught up in shenanigans.
Unlike the late 1960s and 1970s offerings from Awesome Mix Vol. 1, most of the songs on this list are more modern and up-tempo. There's no way they would have fit within the film itself, but as far as jazzing up tired actors during late night filming, it sounds like these songs did the trick. However, there is one thing that this playlist has with the original soundtrack: the songs are sure to get anyone up and dancing! Now that you know their titles, go and make this playlist for yourself to blast in your ears if you ever find yourself in a bar filled with aliens...or just unusual people.
Connoisseur of Marvel, DC, Star Wars, John Wick, MonsterVerse and Doctor Who lore. He's aware he looks like Harry Potter and Clark Kent.
Your Daily Blend of Entertainment News
Thank you for signing up to CinemaBlend. You will receive a verification email shortly.
There was a problem. Please refresh the page and try again.