Guardians Of The Galaxy Has A Porn Parody, Because Of Course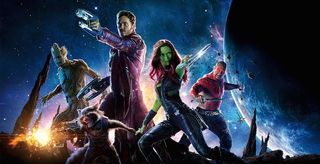 It was only a matter of time. As soon as Marvel's Guardians of the Galaxy hit big at the box office, you had to know that this was going to happen. Now we have our first look at Gnardians of the Galaxy, the porn parody of James Gunn's deep space adventure.
When you think about it, Guardians' eclectic collection of outer space outlaws is tailor made for an adult entertainment spoof. It has everything you're looking for from a journey into the erotic: beautiful women, hunky dudes…a talking raccoon… and an anthropomorphic alien tree. Okay, with those last two pieces it's going to be interesting to see how exactly they fit, but in this new image from io9, you can see that they've definitely taken some liberties with the source material.
Just a helpful piece of advice, if you're at work, maybe don't scroll down any farther right now. You wouldn't want your boss or the office prude to stroll past your cubicle, glance at your computer screen, and see what appears to be a giant wooden penis, now would you? It's possible that passersby might miss it, but why take the chance?
All of the expected parties are here to, well, party. Given how much Peter Quill talks about his sexual exploits—who can forget that filthy Jackson Pollock line?—he's the perfect captain for this mission, and you've also got Gamora, Drax the Destroyer, Rocket Raccoon, and the loveable Groot, or at least their more DTF counterparts. In the porn universe the team consists of Star Load (Aaron Wilcoxxx), Gamwhora (Daisy Ducati), Rocket Raccooch (April O'Neil—definitely not the one from Teenage Mutant Ninja Turtles), Crax (Shane Diesel), and Groin (AJ). Also getting in on the action, though not pictured here, are Kokrath (Tabitha Stevens) and Bonin (Vuko). But where's Nebula?
Gnardians is the latest endeavor from the folks at Wood Rocket, which is an especially appropriate name in this instance, who are active veterans in the porn parody game. They're the people behind spoof titles like The Humper Games, Doctor Whore, The Knobbit, and Game of Bones. I feel like they could have tried a little harder with Doctor Who, and there are times when Game of Thrones is already just a few short steps away from this as it is.
If this photo isn't enough to pique your interest, a "less work-safe" poster will be available on the Wood Rocket website starting tomorrow. The full Gnardians of the Galaxy is scheduled to appear on the site, for free I might add, beginning April 3, with an extended DVD version following later that month. You'll definitely want to check out the deleted scenes, commentaries, and making-of featurettes. They're sure to give you a whole different level of insight into the making of this film.
Your Daily Blend of Entertainment News
Your Daily Blend of Entertainment News
Thank you for signing up to CinemaBlend. You will receive a verification email shortly.
There was a problem. Please refresh the page and try again.