Guardians And SPECTRE Star Dave Bautista Just Grabbed Another Classic Villain Role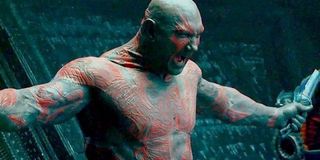 Guardians of the Galaxy's Drax the Destroyer, Dave Bautista is not just adding SPECTRE's villainous muscleman, Mr. Hinx to his resume. The WWE Wrestling Champion is now taking up the sword as the pivotal Kurgan in the much anticipated Highlander reboot for Summit.
Latino Review, which noted that Bautista was joining SPECTRE as a Bond villain last year, now says that Bautista will be taking on the role of the Kurgan, the "perfect warrior" that battles the Highlander for immortality in that awesome scene at the top of the Silver Cup Studios building in the original film.
The Kurgan was originally portrayed in the first 1986 Highlander film by Clancy Brown (who is now known as the voice of Mr. Crabs in Spongebob). Bautista will be filling those warrior boots for first time director, Cedric Nicholas-Troyan. Nicholas-Troyan, a VFX wizard, also now is pegged with directing the spinoff for The Huntsman for Universal.
Nicholas-Troyan has got his Kurgan, but not his Highlander or his Ramirez -- played in the film by Christopher Lambert and the truly immortal Sean Connery.
Ryan Reynolds was cast in the lead role of the battling Scottish immortal when then director, Juan Carlos Fresnadillo, was aboard. Fresnadillo dropped out, and so did Reynolds -- and some fans drew a sigh of relief. Green Lantern and R.I.P.D. don't make up the resume of a kick-ass Scottish beast who can go up against the likes of a WWE champion like Bautista.
There's been talk of 300's Gerard Butler taking on the role, which might make sense, accent-wise. Butler is a Glasgow-born boy from the mean side of town who knows his way around a fight. But at this point, the 46-year-old actor might have aged out of the role. French actor, Christopher Lambert was in his twenties when he paired up with Sean Connery to inhabit the role that many can't think of without him. Even the perfectly acceptable Adrian Paul of the Highlander TV series seemed like a place holder next to the original.
So who could hold his own against Bautista's Kurgan? How about Tom Hardy? He's buff, British (so he can manage the accent) and his acetylene-wattage energy would work well against Bautista's high-wattage testosterone. Butler for Ramirez? Gerard could start filling those Connery gravitas boots like no one else. What do you think?
Your Daily Blend of Entertainment News