The Huntsman: These Dwarves Want No Part Of The Sequel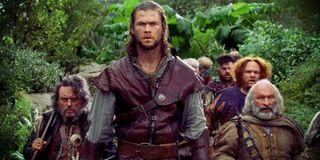 Snow White and the Huntsman 2 seemed ridiculous to begin with. It cut out the Snow White part and is simply being called The Huntsman. I mean, that can happen when one of the worst parts of your movie is Snow White herself. But now that the film has a solid release date of April 22, 2016, two more familiar faces revealed they won't be returning. Actually three, but two of them didn't really want to be involved.
We're referring to three of the seven dwarves, the ones played by Simon Pegg's comedy buddy Nick Frost, Toby Jones of the Captain America films, and Ray Donovan's Eddie Marsan. Marsan was already unlikely to return because of his television duties, but Deadline reports that the other two did not agree to the terms. Instead the trade states that The Huntsman will only feature three members of the fairy tale band of gents, but which ones exactly are still to be revealed.
It seems like people have been dropping like flies from this project. Aside from Kristen Stewart, who played Snow White in the first film, and this latest batch, original director Rupert Sanders wasn't enlisted for the sequel. It was originally thought that the studio had to choose between Stewart and Sanders, who both were involved in that widely reported cheating scandal. But it was later revealed that Stewart was never part of the sequel. Sanders was replaced by Frank Darabont, but he dropped out over creative differences and was in turn replaced by the first film's VFX master, Cedric Nicolas-Troyan.
As everyone wants more of Chris Hemsworth/Thor/PEOPLE's Sexiest Man Alive, the film will be a prequel focusing on the hunky huntsman. As such, Charlize Theron's evil queen Ravenna, who perished at the end of the first film, will return in all her glory. Not all that much else is known about the story, other than that Emily Blunt, who wowed us in Into the Woods and Edge of Tomorrow, is being courted to play a villain.
Despite this new outlook, though, Snow White and the Huntsman did not do all that well critically. Although it earned two Oscar nominations for costumes and VFX, the scandal involving its star and director totally overshadowed the film itself. Hemsworth is undoubtedly a major draw for audiences. Even though Blackhat totally bombed at the box office, he has a few high-profile films coming up, including Avengers: Age of Ultron and Ron Howard's Moby dick film, In the Heart of the Sea. The chiseled actor is not shying away from the spotlight anytime soon, and it seems only natural for Universal to try and revamp this entire franchise around him. Still, it's hard to ignore all the issues with this film, especially the numerous drop-outs.
Your Daily Blend of Entertainment News
Thank you for signing up to CinemaBlend. You will receive a verification email shortly.
There was a problem. Please refresh the page and try again.