Guillermo del Toro's Frankenstein Back On Track At Universal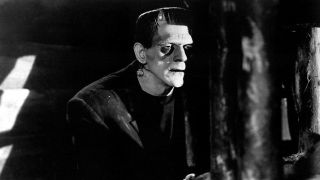 (Image credit: Universal Pictures)
It's a good week for monster movies, with Tim Burton's Frankenweenie reviving a lot of the screen's classic spooks, and Universal celebrating its roster of creatures with a centennial celebration in Los Angeles, a monthlong retrospective called Monstrous Centennial: Universal's Legacy of Horror. The series kicked off last night, and one of the most famous and committed monster movie fans in the world-- Guillermo del Toro-- was on hand to celebrate and reveal some news about a monster movie of his own.
Del Toro, who is currently in post-production on what he describes as a "giant fucking monsters vs. giant fucking robots" movie Pacific Rim, has his name attached to more than a dozen in-development projects that may or may not ever happen. Most relevant to last night's celebration, though, is Frankenstein, a spin on the famous monster set up at Universal, but which we haven't heard anything about since way back in 2008, before del Toro abandoned The Hobbit, before he started Pacific Rim… eons ago, basically. But if you thought the project was just straight-up dead, del Toro had some good news when Shock Til You Drop asked him about the status of the project last night:
Del Toro went on to admit that he's been "avoiding it in a cowardly way for many years," because as he tells it, a faithful adaptation of Mary Shelley's novel Frankenstein could be the most personal film he ever makes:
It's encouraging to see del Toro say that the Frankenstein script is back on track, but we all learned long ago not to count on any del Toro project coming to life until actors are actually standing in front of the camera-- he's simply got too much going on to assume anything. But maybe once Pacific Rim comes out July 12 next year, we'll start seeing del Toro's Frankenstein come back to life for real.
Your Daily Blend of Entertainment News
Staff Writer at CinemaBlend