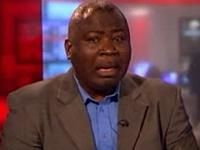 For those of you who don't spend unhealthy amounts of time surfing the back streets of the internet in search of humourous nuggets, allow me to first bring you up to speed.
Guy Goma was a business studies graduate in search of work. After applying for a post as "Data Support Cleanser" at the BBC's IT department, he was invited for a job interview. At the same time he was waiting in the receiption area, another Guy, surname "Kewney", was waiting in an adjacent reception area to be interviewed live on TV regarding an Apple lawsuit. One dumb receptionist and an unassuming producer later and Guy Goma, not Guy Kewney, is sitting live on air fielding questions about the tech-website he is "editor" of and what he thinks of Apple's legal wranglings. The results have been stuff of legend for quite some time now as you can see here.
Well news is now that producer Alison Rosenzweig, of Windtalkers, is trying to locate a studio interested in making a feature based on the incident. She tells Empire Online: "He's a fun, kind of internationally famous person, that I think is an interesting source for movie material."
It is of course much too early to have any solid creative information, but the mind boggles at what the hell is gonna happen with this thing. The obvious would be a media satire because, to be honest, there's not much to go on here is there? I mean, the incident itself was hilarious and the guy's reaction when he's introduced as a website editor is epic in it's stupidity. You can actually pinpoint the exact moment he realises what the hell has happened. I could conceed that it would be great inspiration for a fictional story but it's barely enough to write a good scene let alone a feature.
Stranger things have happened. Could someone remind me of what they are though?
Your Daily Blend of Entertainment News