Guy Ritchie's The Man From U.N.C.L.E. Finds A 2015 Release Date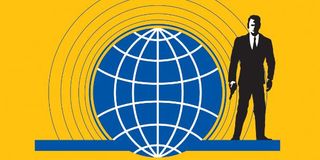 The Man From U.N.C.L.E. looked much more promising when it was announced. Warner Bros. locked in Guy Ritchie to direct fresh off the billion dollar Sherlock Holmes franchise, and the studio locked in the two potential biggest stars of the 2013 summer season. Oh, did we mention those actors were Armie Hammer and Henry Cavill? Hammer wasn't the face of the failure of The Lone Ranger - that would be Johnny Depp - but he did play the title character in one of the industry's all-time biggest blockbuster bombs. Cavill, comparatively, had a better season, as Man Of Steel grossed $668 million worldwide. And yet, when news spread Ben Affleck was going to be in a movie pitting Batman against Superman, fans asked, "Who is playing Superman?" And then again, "Wait, who?"
Those kinds of things have an effect on anticipation for a film, and now it has landed a new release date that doesn't inspire much more hope. It's not summer, and it's not in the holiday season, but in the middle of January, specifically the 15th. This is the territory where similar spy thriller Jack Ryan: Shadow Recruit just took a hard dive off a cliff, and an area usually ruled by the Oscar season holdovers from the previous year. Warner Bros. probably wouldn't have selected this date had Tom Cruise not backed out of his decision to star in this.
Looking closer at the release date you realize that it's surprisingly LOADED with competition. Fox has selected that weekend to debut the latest version of Frankenstein, with James McAvoy and Daniel Radcliffe starring (you'll recall Radcliffe scored a success in the horror genre with The Woman In Black, which debuted in February 2012). There's also Michael Mann's untitled film starring Chris Hemsworth, which may earn an awards-qualifying run before expanding on this date.
There's also the one film these would-be blockbusters should watch cautiously: Screen Gems is releasing The Wedding Ringer, the latest from producer Will Packer (About Last Night, Think Like A Man). Not only is Kevin Hart the star, just like the Packer-produced January release Ride Along, but he's teamed with Josh Gad, who is red-hot coming off the success of Frozen. Even if Gad isn't a draw, audiences will likely be bombarded by the trailers for Ride Along 2 around this time period, continuing Hart's surprisingly speedy entry rise to the Celebrity Illuminati. It's a Kevin Hart world, y'all. The Man From U.N.C.L.E., you're on notice.
There are dots to be connected between the origins of this new project and the current iteration. Years ago, Steven Soderbergh was developing the property, based on the 60's spy television series. Rumors circulated that the project had attracted several leading men, though the version with Channing Tatum (and written by Contagion scribe Scott Z. Burns) ultimately failed to get a greenlight. One has to wonder if WB would rather have that version than the one that's coming now (and wouldn't it be awesome if Steven Soderbergh were still making movies?)
Your Daily Blend of Entertainment News
Thank you for signing up to CinemaBlend. You will receive a verification email shortly.
There was a problem. Please refresh the page and try again.