The New Halloween Movie Has Hit A Major Roadblock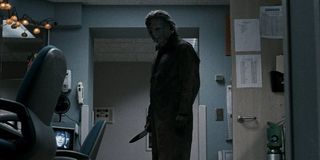 Halloween has always been a time of candy raiding, teenage shenanigans, and homicidal killers on the loose. At least, that's the way it's been in the universe that Michael Myers inhabits, and the Halloween series has made a killing on it for the last couple of decades at its home, Dimension Films. At least, that's how it's been until now, as the rights to the franchise have expired, looking for Michael to search for a new home.
The news comes from a recent report from The Wrap, who picked up on the fact that Dimension and its parent company, Miramax Pictures, have been looking for a buyer to acquire the adventures of the demented seasonal killer. Since movement on the last proposed sequel, Halloween Returns, never progressed as promised, Miramax has decided to throw in the towel and let another studio try to revitalize the brand. For those of you looking forward to horror stalwarts Marcus Dunstan and Patrick Melton's take on the latest installment, you're out of luck as the two are no longer involved in the franchise's future.
It's been a pretty decent run for Halloween at Dimension Pictures, with a total of around $227.5 million being banked over the last five films – the highest grosses coming from Rob Zombie's 2007 reboot. Yet, the drop in returns between that first reboot and its sequel was obviously enough for the studio to rethink their approach. Of course, with a solid two decades in the can, there's only so much rebooting and innovation that a studio can inject into a franchise, before calling it a day. It's not that Dimension Films lacked the effort needed to keep a series like Halloween alive, it's just that nature has apparently run its course.
This kind of sucks, considering the last time we updated you on Halloween Returns, the story Dunstan and Melton has cooked up was allegedly involving a botched execution and a whole bunch of fresh kills for Michael Myers to rack up in an enclosed setting. The tension of an enclosed setting and the legendary lumbering maniac on the loose sounds like it could have been the revamp the world needed and deserved, but unfortunately it looks like we'll never get to see this come to pass. At least with a new production company to call home, the Halloween franchise can start fresh in whichever direction it sees fit to continue its tradition of knife crime and terror in suburbia.
If we were to choose a good home for Michael Myers and his pals, we'd say that Lionsgate would be a good prospect. Seeing as they've had some wonderful genre success with the Saw franchise of days past, it'd be nice to see the indie studio turned Hollywood player return to their horror roots. Should that happen, maybe there's a chance of wooing Marcus Dunstan and Patrick Melton back to the fold – with either a new story or their original concept for Halloween Returns in the saddle for production. For now, Haddonfield's slasher is a free agent, and should weigh his options carefully before killing again.
CinemaBlend's James Bond (expert). Also versed in Large Scale Aggressors, time travel, and Guillermo del Toro. He fights for The User.