This Is What The New Halloween Movie Will Be About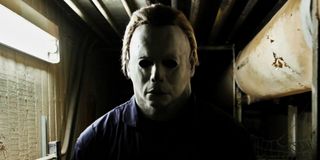 UPDATE: Shedding a bit more light on what this project will be about, ShockTillYouDrop has published an article saying that this movie will actually continue the continuity from John Carpenter's original franchise. The cop mentioned in the report below will actually be Deputy Gary Hunt from 1981's Halloween II, and will be the sheriff when we catch up with him in the new film.
The original report in its entirety is below
It's been a good, long while since we've heard much of anything about the Halloween reboot, and longer still since the last movie debuted. But today comes a whole bunch of information, including confirmation on the director and — pause for dramatic effect — what this iteration will be about.
First off, Bloody Disgusting confirmed that Marcus Dustan, the director of The Collector and a writer behind some of the Saw movies, will direct the Halloween reboot, titled Halloween Returns. Last we heard the title was called Halloween: The Next Chapter, which seems to have been misinformation. Dustan is already in charge of penning the script with co-writer Patrick Melton, and this role will give him more control in seeing his vision come to fruition.
Now for the juicier morsels… Along with the confirmation of Dustan comes the first plot synopsis for the film. Halloween Returns is said to be a standalone movie in the franchise that will introduce younger audiences inexperienced with classic horror to Michael Myers. The story will pick up years after his first reign of terror and will introduce a new cast of young Haddonfieldians to the man behind the mask. One of the characters playing a central role will be the 18-year-old child of one of Myers' victims, while another will be the child of a cop obsessed with the mad man's case. He's so obsessed, in fact, that he puts it before his own daughter. The plot sees Myers now on death row, and these two kids sneak themselves into the facility to watch his execution. Of course, things go wrong and Myers escapes, which puts the kids and their friends in the midst of his rampage.
This is the most obvious way of reimagining the franchise for a younger audience, aside from going the traditional reboot route of starting with a clean slate. This move follows the current trend in Hollywood with tickling our nostalgia epicenter with reinterpretations of classic films, but more so is this idea of creating new horror properties for tweens, teens and everyone in between-s. Ouija, though universally mauled by critics, was a successful attempt in terms of box office revenue, and the same goes for Unfriended, which played on our obsessions with Google Hangouts. The same can be said of Scream, which is seeing new life as an MTV series. Halloween Returns falls into this same genre, though perhaps with someone as sadistically inclined as Dustan at the helm, this property will be honored.
Casting has only just begun on Halloween Returns, so stay tuned for more updates as we get closer to a production start date. We're still hoping for at least some returning players to pop back in for a scare or two. Jamie Lee Curtis, for one, assuming she gets killed off early in Ryan Murphy's Scream Queens.
Your Daily Blend of Entertainment News
Your Daily Blend of Entertainment News
Thank you for signing up to CinemaBlend. You will receive a verification email shortly.
There was a problem. Please refresh the page and try again.