Happily N'Ever After For Lionsgate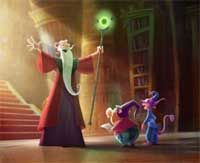 Eager to get in on all the money audiences are throwing at CGI movies, indie purveyor Lionsgate has picked up the North American rights to a German, computer-animated comedy called Happily N'Ever After, according to The Hollywood Reporter.
The film uses Sarah Michelle Gellar, Sigourney Weaver, Freddie Prinze Jr., Wallace Shawn, Andy Dick, and George Carlin as the voices of primary characters in a satirical retelling of the classic Cinderella tale. Upside down fairy tell movies seem to be the thing with the latest batch of computer animated movies. Earlier this year the Weinstein Company made a tidy profit with a cheaply produced, satirical take on Little Red Riding Hood.
Happily N'Ever After is the story of an unholy alliance led by Cinderella's evil step-mother taking on the good guys in Fairy Tale Land. When Cinderella sees her classic story being screwed up by her step-mom's machinations, she drops the damsel-in-distress act to lead the Fairy Tale Land resistance. Cinderella goes commando.
The movie is scheduled for release early next year. At some point audiences have to wise up and realize that all computer animated movies are not created equal. It hasn't happened yet, but maybe this will be the one that does it.
Your Daily Blend of Entertainment News