Happy Endings' Adam Pally Talks About His Great Iron Man 3 Scene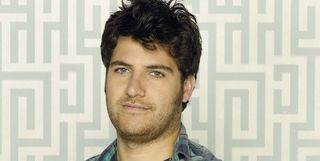 Mild spoiler warning. This article contains some plot and character references from Iron Man 3, but no major spoilers. Still, if you haven't seen the movie yet and you don't want to know any specifics about it, read no further.
Iron Man 3 had no shortage of great and memorable scenes, some more exciting than others, and some just plain amusing. One thing was clear, Tony Stark had no shortage of assistance throughout the movie, including help from an Iron Man mega-fan in the form of a local news cameraman with a satellite-equipped van and a Tony Stark(ish) tattoo on his arm, designed from a Tony Stark doll he made. If you thought Gary the Cameraman looked familiar, you might be a Happy Endings fan. The cameraman was played by Adam Pally, who plays Max Blum in the underrated ABC comedy.
From what he told Vulture, Pally wasn't given any information about the role he was auditioning for when he read for the part. He spoke about his working relationship with Robert Downey Jr., which dates back a few years when he was asked to write a web series for the actor. "Eventually I got the call for Iron Man," Pally said. "And I read sides that had nothing to do with what I did in the movie, and I performed it once while no one was in the room — it was videotaped, and I'm sure Shane Black was watching it from his helicopter or something. And then I got a call the next day that I was going down to shoot it." From the sound of it, he still doesn't know how the scene fits into the movie, aside from knowing that it was a scene with Downey and that it would be a local news thing.
As for the dialogue, Pally credits writer Drew Pearce and Shane Black, who co-wrote the film, in addition to directing. Though he also says there was some improv involved.
Vulture asked Pally if he was lobbying for a part in The Avengers 2 or Captain America: The Winter Soldier. As bizarre as it might seem for this random news camera guy to show up in one of the anticipated Marvel sequels, it's not entirely hard to picture. Joss Whedon isn't above including enthusiastic (geeky) characters in his projects, for one thing. And for another, Captain America: The Winter Soldier is being helmed by the Russo brothers, who just so happen to be executive producers on Happy Endings. But from what Pally says, even the inside connection may not be enough of an in to secure a spot in the film. " I did text Joe Russo to say, 'I don't think my character dies, so if you need a local news cameraman to show up in Captain America 2 … I know it doesn't make sense, but just hear me out on this!'," Pally told Vulture. "He was really cool about it and turned me down right away."
So we may have seen the last of Gary the Cameraman, which is unfortunate. I thought he and Stark had a real connection. And a van with that kind of equipment has a lot of uses.
While some of us (me) are obsessing over Pally's great little cameo in the film, the more devoted Marvel fans have a bit more to say on the subject of The Mandarin, and what Iron Man 3 did with the character. Read Sean's comments on why real fans should be pissed here.
Your Daily Blend of Entertainment News
0
Assistant Managing Editor
Kelly joined CinemaBlend as a freelance TV news writer in 2006 and went on to serve as the site's TV Editor before moving over to other roles on the site. At present, she's an Assistant Managing Editor who spends much of her time brainstorming and editing feature content on the site.
Your Daily Blend of Entertainment News
Thank you for signing up to CinemaBlend. You will receive a verification email shortly.
There was a problem. Please refresh the page and try again.