Harrison Ford Joins Blake Lively For Romantic Drama The Age of Adaline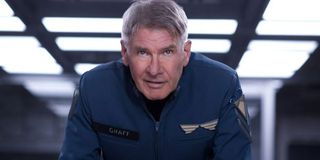 While we wait for word on Star Wars: Episode VII and Indiana Jones 5, screen legend Harrison Ford has signed on to a decidedly different adventure, a romantic drama called The Age of Adaline. He'll join a cast that already includes Blake Lively and Ellen Burstyn.
An original screenplay by J. Mills Goodloe and Salvador Paskowitz, The Age of Adaline centers on the titular 29-year-old woman, who is destined for an incredible and strange life. Born in the turn of the 20th Century, Adaline is made effectively immortal after recuperation from a nearly fatal incident stops her from aging. Removed from the natural progress of humanity, she becomes isolated, forced to hide her secret and move about to keep others from discovering it. But all this could change when she meets a man who might have the power to alter her.
Lively and Burstyn (which together sounds like a great vaudeville act) signed on to the project last fall. Based on its description, it seems safe to assume Lively will be playing the ageless Adaline. At present we have no idea what role Burstyn is set for. As to Ford, the release has Lakeshore's President Gary Lucchesi declaring, "He's perfect for the role of William,' while nothing in the statement offers any idea who William is. Presumably, he is the man that can change everything for Adaline, but does that also make him a love interest?
In reality, Lively is 26 years old, nearly 40 years younger than Ford. At 67, he is much closer in age to 87-year-old Burstyn. But whether it's on or off screen, Hollywood has always loved those May-December romances when the December is a dude and the May is a pretty ingénue. There's been Lauren Bacall and Humphrey Bogart (The Big Sleep and in life), Maria Schneider and Marlon Brando (Last Tango In Paris), Mariel Hemingway and Woody Allen (Manhattan), of course Ford's marriage to Calista Flockhart who is 18 years his junior, and many, many more. So it's far from an uncommon representation in movies. But assuming the romance is between Lively and Ford, does it make for a good pairing?
Honestly, I am thoroughly unimpressed by Lively. I get it, she's beautiful, sexy and all that. But she has the screen presence of a damp sponge. I've seen her "act" in love simultaneously with Taylor Kitsch and a dreadlocked Aaron Taylor-Johnson in Savages, and with her eventual real-life husband Ryan Reynolds in Green Lantern, and I was bored. Admittedly, I may be missing part of the picture of her appeal having never seen Gossip Girl. But I have little faith in Lively's leading lady prowess, much less when she's paired with Ford and his gruff charms.
But I'm hoping I'm wrong. And you know why? Because I am really rooting for The Life of Adaline's director. Lee Toland Krieger will be helming the pic, and hopefully that means he had some say in casting. Krieger's past works include the subversive rom-com Celeste & Jesse Forever, and the deliciously dark comedy The Vicious Kind. In the latter, he cast Adam Scott as an anti-social wild man and Britney Snow as a goth college chick. It was unexpected but perfect. I am such a fan of that movie, that I will give The Life of Adaline a shot, Lively or not.
The Life of Adaline will begin production in March. The Vicious Kind is now streaming on Netflix. (opens in new tab)
Staff writer at CinemaBlend.
Your Daily Blend of Entertainment News
Thank you for signing up to CinemaBlend. You will receive a verification email shortly.
There was a problem. Please refresh the page and try again.