Harry Potter's Goyle Reveals Changes For Final Movies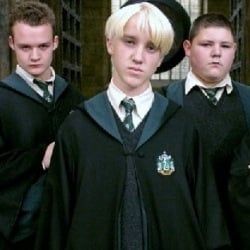 All the press focus get shoved onto the main Harry Potter kids, the Daniel Radcliffes and the Emma Watsons who are carefully controlled by the studio and know better than to say anything that might not make the studio happy. But apparently to get the real juicy stuff, you have to go to the minor players-- which is how MuggleNet got their hands on some slight spoilers for the final two Harry Potter films.
Joshua Herdman, who plays Draco Malfoy's goonish right hand man Goyle, confirmed rumors that the split between the two films will occur just after Ron, Hermione and Harry are captured by the Snatchers, and the second film will start at Malfoy Manor. The real surprise for me, though, came with the news that the actor who plays Crabbe, Jamie Waylett, was arrested for marijuana possession a few months ago, and won't be in the Deathly Hallows films at all. That means-- SPOILER ALERT FOR HARRY POTTER 7-- that Goyle, not Crabbe, will die in the fire inside Hogwarts. The change doesn't make much of a difference plot wise, but it'll be very strange for Potter fans to see Draco in that scene without both Crabbe and Goyle, given that the three were inseparable throughout the series.
Your Daily Blend of Entertainment News
Staff Writer at CinemaBlend