Has Breaking Dawn Found Its Vampire Baby Renesmee?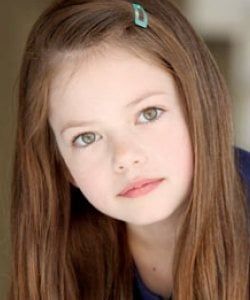 We still don't really know how screenwriter Melissa Rosenberg and director Bill Condon will handle the fairly traumatizing birth scene that caps the fourth Twilight film Breaking Dawn, and exactly how much CGI will be required to create a convincing half-human half-vampire baby. But when that baby grows up, we know she'll look like 9-year-old Mackenzie Foy-- at least until she ages rapidly and falls in love with Taylor Lautner.
According to Entertainment Weekly, Foy is "inches away" from snagging the role of Renesmee, Edward and Bella's baby who becomes the focal point of one last battle between the Volturi and the Cullens. Because Renesmee is half-vampire and half-human she ages rapidly, from newborn to a 17-year-old over the course of the book, and EW speculates they might use some Benjamin Button-style CGI magic to allow Foy to play the character throughout the film. But, again, it's already creepy enough that Taylor Lautner's Jacob "Imprints" on the newborn, immediately falling in love with her. Are we going to be able to handle seeing a 9-year-old child making out with Taylor Lautner just half an hour later into the movie?
Of course, these are logic questions, and logic never seems to play much of a role in the Twilight movies, no matter how much the fans try to insist the movies are perfectly normal. With the two installments of Breaking Dawn set to start filming shortly, maybe we'll at least get our answers soon so we can start preparing ourselves for the inevitable creepiness.
Staff Writer at CinemaBlend
Your Daily Blend of Entertainment News
Thank you for signing up to CinemaBlend. You will receive a verification email shortly.
There was a problem. Please refresh the page and try again.