Hear Me Out: Is Fast & Furious 6 Hinting At The Rock Joining The Avengers?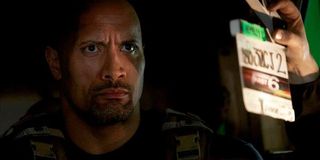 Since the debut of its mind-blowing Super Bowl trailer, we knew Justin Lin's Fast & Furious 6 would be a blast. Packed with big character moments, hilarious one-liners, and insane action sequences, it's overwhelming in the best way possible. I confessed openly to laughing, sobbing, screaming and throwing punches in my seat like a hyperactive child while experiencing it. That's just what this movie does to people. But after the credits rolled and my mind cleared a bit, I began to ponder one strange recurring joke and what it could mean.
I promised Cinema Blend Editor-in-Chief Katey Rich that I'd make it clear that 1) what follows is wild speculation (arguably wishful thinking) on my part, and 2) she thinks this theory of mine is "mildly insane." With this disclaimer stated, let's press on.
Over the course of the movie there are plenty of goofy one-liners, but a full three of them are allusions to the highest grossing movie of 2012, The Avengers. The first can be heard in this trailer, where Tej Parker (Ludacris) marvels that Dominic Toretto's (Vin Diesel) crew is no longer running from Luke Hobbs (Dwayne "The Rock" Johnson), but working for him, quipping, "Now we work for the Hulk?" Later, when Hobbs visits London's surveillance camera headquarters, he meets some resistance from a pudgy English security guard who sneeringly calls Hobbs "Captain America." Finally, when Hobbs telephones Parker, his caller idea reads "Samoan Thor."
Each of the above rightly won laughs from the audience, but why all The Avengers references? The superhero flick's sheer popularity was probably reason enough for these references.... but isn't it a little suspicious that each one is directed at The Rock? 'Want does it mean?' I wondered. The more I thought about it, the more I suspected that Lin and his cast might be tipping a bit of potential casting news. Namely: maybe The Rock is being considered for a role in The Avengers 2. He'd be perfect with his superhuman muscles and massive charisma! But this is where Katey called me crazy, pointing out it's unlikely Universal Pictures would essentially advertise for a Disney movie in one of their most popular franchises. But the references are there regardless. And with Johnson swooping in to save one franchise after another, maybe next he'll save The Avengers from a sophomore slump.
Of course Marvel doesn't need help right now, not with Iron Man 3 already a major hit. But as Sean has argued in the past, adding The Rock to any action flick is guaranteed magic. We know he's turned down Transformers 4 to play Hercules in Brett Ratner's Hercules: The Thracian Wars. But could it be possible Marvel has plans for him down the line, and this is what Furious 6's trio of Avengers references are alluding to? I'm thinking it's a maybe. Call me crazy.
Your Daily Blend of Entertainment News
Staff writer at CinemaBlend.
Your Daily Blend of Entertainment News
Thank you for signing up to CinemaBlend. You will receive a verification email shortly.
There was a problem. Please refresh the page and try again.