Hear The One Thing Domhnall Gleeson Is Allowed To Tell Us About Star Wars: Episode VII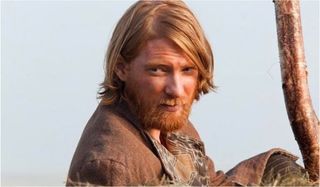 He's been one of the Weasley clan in the Harry Potter movies. He's been a romantic hero in two challenging romances, Anna Karenina and About Time. Now, Domhnall Gleeson is poised to become a sci-fi icon when Star Wars: Episode VII hits in the winter of 2015. But what can he tell us about his involvement in the wildly anticipated sequel?
I sat down with Michael Fassbender and Domhnall Gleeson to discuss their new joint venture Frank. We'll bring you more from this interview closer to this heralded indie's theatrical release. Of course, I did press for Gleeson to talk a bit about Star Wars, asking the Irish actor if he had a chance to shoot in his homeland when production touched down there last week. As I'd suspected, he wasn't going to give away even the tiniest hint. (Leave that to Episode VII's director.) However, Gleeson did show me his "Star Wars face" in the above video, and playfully detailed exactly how strict his confidentiality contract is.
Leaping into a franchise as established, sprawling and beloved as Star Wars can be intimidating. But if anyone could offer advice on how to handle such a feat, it's Michael Fassbender, who entered the Alien series as the calculating android David of Prometheus. We also want to share the incredible words of advice Fassbender offered Gleeson (a metaphorical Padawan under his storied co-star if nothing else) about his venture into the complicated world of space sagas.
Fassbender initially demurred to give advice. But when Gleeson seemed eager for some, he offered:
You can see this exchange in all its sweet and silly glory below:
As I promised to Star Wars: Episode VII's Domhnall Gleeson, here is a GIF of his "Star Wars face." Make of it what you will!
From these snippets, you should get a feel for the warm and wacky chemistry Michael Fassbender and Domhnall Gleeson share in Frank, a dramedy about music, friendship and ambition. To see more of their quirky harmony, be sure to seek out this indie when it hits theaters on August 15th.
Staff writer at CinemaBlend.