Why Quentin Tarantino Is Shooting Hateful Eight In Colorado And What He'll Spend His Budget On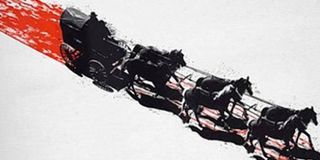 The Hateful Eight has found a base of operation in Colorado. As Quentin Tarantino and company sign deals for the film's production, local papers are dropping all kinds of juicy details on this acclaimed writer/director's eighth feature film.
The Denver Post's focus on their Hateful Eight article was about the production's use of the state's filming incentive program and how this will encourage local job growth. But amid specifics on rebates and contracts, some enticing elements of the film's making have been unearthed.
For his Western, Quentin Tarantino sent location scouts to Utah, Wyoming, and Colorado, before choosing the last--it's believed in part because of its likelihood for snow, a key element of the plot synopsis. While early projections had The Hateful Eight shooting in January, Tarantino's shooting permit for the southwestern region of Colorado begins December 8th. But preparations for the production will begin in early October.
What preparations? Well, considering the entirety of the film--from its exteriors to its interiors--are being shot in Colorado, Tarantino has a homestead to build. He's chosen 900-acre, high-mesa Schmid Ranch, on Wilson Mesa 10 miles west of Telluride. It's unknown how much Tarantino plans to alter Schmid's land or structures, but part of The Hateful Eight contract is that all be returned to its initial condition upon the film's completion.
Construction plans include a temporary set that demands local approval via a meeting on Oct. 16th. Could this be the shelter where The Hateful Eight's band of bounty hunters are forced to hold up when a cruel blizzard traps them together? That is at present unclear. But it is unlikely that Tarantino will face obstacles from locals, as The Hateful Eight is being regarded as a boon to the state. Not only is the film projected to bring 168 jobs and $25.05 million to the state in forms of payroll, lodging and food services, but with a budget of $44 million, this Western is being seen as a badge of honor.
Colorado film commissioner Donald Zuckerman explains, "Even though there have been some big movies shot here over the years, this is the biggest thing since True Grit, (the 1969 one) because it's all Colorado. Because it's a Western. And because it's Tarantino."
The reveal of a The Hateful Eight is actually kind of shocking as Tarantino's films have grown more and more expensive as his career has progressed. Take a look:
• Reservoir Dogs $1.2 million
• Pulp Fiction $8.5 million
• Jackie Brown $12 million
• Kill Bill Vol 1 $30 million
• Kill Bill Vol 2 $30 million
• Grindhouse $53 million for both his Death Proof and Robert Rodriguez's Planet Terror
• Inglorious Basterds $75 million
• Django Unchained $100 million
Often a backslide in budget like this happens when a director's last film was a bomb, critically, financially or both. But Django Unchained won Oscars, critical acclaim and an impressive $425 million at the worldwide box office. Instead, it seems that Quentin Tatantino's intimate tale of dangerous men and woman in a claustrophobic setup doesn't demand the kind of sprawling production design and costume demands of his most recent works. This will be a smaller, but not necessarily less spectacular film. And these bits and bobs have us more excited than ever.
The Hateful Eight will open in 2015.
Your Daily Blend of Entertainment News
Staff writer at CinemaBlend.