Hillary Duff's Bonnie And Clyde Movie Uses Her Pregnancy As An Excuse To Drop Her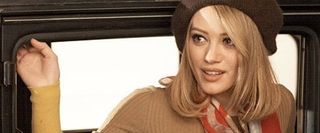 It's been nearly two years since we heard anything about The Story of Bonnie and Clyde, the new take on the famous bank robbers that was set to star Hillary Duff and Kevin Zegers. In November 2009 director Tonya S. Holly beefed up the supporting cast, but since there wasn't a peep from the production after that-- and casting Duff in a role immortalized by Faye Dunaway started to seem more and more ridiculous--- it seemed safe to assume the whole bad idea had been cancelled.
Now the production has popped back up, at TMZ of all places, and it's hard to sort the gossip from the actual industry news. According to this report Duff has been "dumped" from the production thanks to her newly announced pregnancy, with the excuse that shooting is scheduled for the fall and Duff won't be available until June. But given that production has been planned for years now with no forward movement, Duff's pregnancy might seem like more of a convenient excuse to ditch an actress who's more well known these days for the tabloids than any actual performances.
But I still can't shake the fact that The Story of Bonnie and Clyde seemed all but dead, and the news that Duff is out is the first we've heard about production getting started in the fall-- almost as if somebody wanted a chance to piggyback on her pregnancy news to get the production's name back in the public eye. Duff's co-star Kevin Zegers is reportedly also out, and with Limitless director Neil Burger eyeing his own take on the story, this seems like an ideal moment for Holly and her team to walk away. But whether or not Duff was actually fired or just made the logical decision to focus on her pregnancy, someone is trying to keep The Story of Bonnie and Clyde afloat in the news-- and whether or not we ever see it go into production, this probably isn't the last we'll hear of it.
Your Daily Blend of Entertainment News
Staff Writer at CinemaBlend