Hitchcock's Rebecca Remake Hires Royal Affair Director Nikolaj Arcel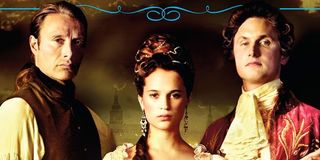 It might seem a fool's errand to remake a Hitchcock movie. The example that springs to mind for most is Gus Van Sant's bizarre shot-for-shot recreation of Psycho. But DreamWorks memorably gave a Hitchcock premise a fun and freaky new interpretation in 2007 with Disturbia, which was inspired by Hitch's classic Rear Window. So what might this studio have in store for their in-the-works remake of Rebecca?
The original 1940 movie was based on Daphne Du Maurier's celebrated novel and followed the story of a naïve newlywed, who upon marrying her wealthy widowed husband, discovera she must compete with the deceased first wife Rebecca. Early last year, DreamWorks brought Eastern Promises scribe Steven Knight on board to adapt the remake, looking back to the source novel for inspiration. Deadline reports DreamWorks has now signed Danish writer-director Nikolaj Arcel to the project.
Arcel co-wrote Denmark's The Girl with a Dragon Tattoo movie, and recently won international acclaim for A Royal Affair. The historical drama that he co-wrote and directed was based on a novel by Bodil Steensen-Leth and aside from critical praise, earned an Oscar nod for Best Foreign Language Film. It's expected--considering his experience in adapting novels into compelling screenplays--that Arcel will do a revision on Knight's draft before production moves forward.
But before we get casting news on who will be contending for the roles originated by Laurence Olivier and Joan Fontaine, Arcel will be adapting and helming The Power of the Dog for The Story Factory. Based on the book by Don Winslow (author/screenwriter of Savages), the crime drama about a DEA agent's battle against a powerful Mexican drug cartel is currently lined up as Arcel's next project.
Check out a trailer from the original Rebecca below:
Staff writer at CinemaBlend.
Your Daily Blend of Entertainment News
Thank you for signing up to CinemaBlend. You will receive a verification email shortly.
There was a problem. Please refresh the page and try again.