Hollywood Is Pouncing On That Horrifying Story Of The Watcher, Of Course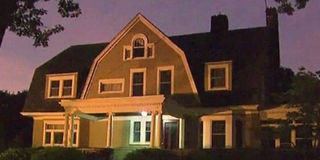 Well, that didn't take long did it? It's only been a few days since the world learned of the chilling and traumatic ordeal that a New Jersey family went through because of a miscreant named The Watcher. But that hasn't stopped Hollywood from leaping at the opportunity to turn the Broaddus family's horrific plight into a movie.
Tracking Board has reported that various Hollywood studios, writers and directors are now chomping at the bit to turn the story into a feature film. Rights for the tale are still up for grabs, and the likes of Blumhouse Productions, Dimension Films, New Line Cinema, and Universal are currently trying to get the story into development. It's believed that Dimension is making the biggest strides to develop the film after an unnamed writer pitched the story to them.
Directors James Wan (Furious 7) and Bryan Bertino (The Strangers) are also believed to be very interested in developing the film. Wan has previously had great success with the horror genre, having created memorable scares in films like The Conjuring and Insidious. Bertino would also be a good choice, though, as The Strangers has a similar tone and story to what actually took place in New Jersey.
It's immediately clear why Hollywood are so interested in bring the story of The Watcher to the big screen. For those of you who don't know, it recently emerged that Derek and Maria Broaddus had been receiving terrifying notes from an unknown tormenter who revealed that he watches over their new home. The Broaddus family had only just moved into their new abode in Westfield, New Jersey, but they were soon bombarded with notes from the individual who insisted that he was the true owner of the home.
According to TheStar.com, one of these notes declared, "My grandfather watched the house in the 1920s and my father watched in the 1960s. It is now my time. I've been put in charge of watching and waiting for its second coming." Spooky stuff. I mean, I couldn't help but look over my shoulder while just writing out the above. Another note even made reference to "young blood," and they were so creepy and intense that the family understandably began to fear for their young children's safety.
NJ.com has reported that Derek and Maria Broaddus are now suing the Chicago Title Insurance Company and A Absolute Escrow Settlement Company for common law fraud, equitable fraud, and emotional distress at Union County Superior Court, because they failed to inform them of the stalker before they bought the house. I imagine that Hollywood's take on the story won't have such a judicial conclusion.
Photo: Courtesy of CBSNewYork.com
Your Daily Blend of Entertainment News