Hotel Transylvania 2 Just Broke A Huge Box Office Record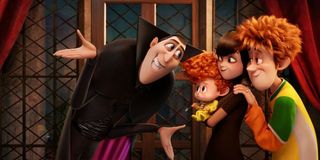 Adam Sandler's embarrassing Pixels flop didn't keep the comedian down! Hotel Transylvania 2, which Sandler executive produced, co-wrote, and stars in, opened this weekend to an estimated $48.2 million-- breaking records for the struggling studio, Sony.
The animated comedy about a spooky hotel filled with vampires, werewolves, and more handily won the box office weekend. It more than doubled the $18.6 profit that second place The Intern raked in, and in third came Maze Runner: Scorch Trials, which brought in $14 million. Even more impressively, the film's massive opening is the highest of the year for Sony, and even beat out the opening figures for the franchise's original film, reports Deadline.
Along with the sequel to the 2012 Sony animated comedy Hotel Transylvania giving Sony its highest-grossing opening of the year, it's also given Sandler the highest-grossing opening of his entire career by beating out The Longest Yard's $47.6 million opening in 2005. The success is encouraging for both Sony and Sandler, whose most recent collaborative release, this summer's Pixels, was a pretty much universally ridiculed box office bomb.
The timing and success of Hotel Transylvania 2 proves a trend that Sony has pretty much perfected: releasing family-friendly animated films in late September. In past years, Sony released Open Season, Cloudy with a Chance of Meatballs, Hotel Transylvania, and Cloudy with a Chance of Meatballs 2 in late September, and all have had impressive opening weekends. The formula works — audiences are tired from the summer blockbusters and can only take so much of the serious Oscar-bait dramas coming out, so an easy family cartoon is a relaxing oasis for parents and kids alike.
Interestingly, Sandler's recent live-action films have a reputation for failing, but his animated Hotel Transylvania movies have been successes. Pixels is only the latest in a string of critically-reviled box office clunkers with Sandler at the helm; just look at Razzie-sweeper Jack and Jill, the immediately forgotten Blended, or the uncomfortably desperate You Don't Mess with the Zohan, among many others. So while the success of his animated films is definitely a relief for Sandler, it also must be a bit depressing that the formerly great comic icon can only find success as a voice in children's movies.
In Sandler's ongoing effort to stay relevant, he has made a deal with Netflix to make four new movies for the streaming service, which very well could revitalize his image as an actor, since Netflix is so huge and respected for its original content right now. Or it may just be the final nail in his coffin as a has-been if he continues to make the types of movies he's been doing for the past decade. So far, it's not looking good, as the first movie he's been making as a part of the deal, called Ridiculous Six is already creating controversy for being racially insensitive to Native Americans.
The way things are going, Sandler should be counting his blessing that he is such a central part of the Hotel Transylvania franchise. Expect a third installment after Sandler makes another string of terrible live-action films. We can all hope and pray for another Billy Madison, Happy Gilmore, or The Waterboy, but it's probably safer to not get our hopes up, as another That's My Boy is probably more likely, sadly.
Your Daily Blend of Entertainment News