How Divergent Is Changing The Way Studios Make Sequels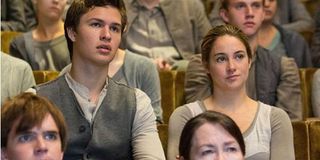 On March 20th, 2015, Insurgent hits screens, the sequel to YA adaptation Divergent. If you're thinking back as to when Divergent came out, or when you purchased a ticket for the film, perhaps you're a bit out of the loop, as the picture debuts today. And if you like it, you won't have to wait long for further entries in the series: Lionsgate have mapped out March 18th, 2016 as the release date for Allegiant, the third in the series. Essentially, Lionsgate has already assumed that the blockbuster audience to support this series is in place, mobilized and ready to support this franchise.
Slowly but surely, studios have been using release dates to win or lose publicity games with each other. It's like prehistoric dating: a studio comes out and lands a release date for its big film, years in advance, and it's like a marking of territory, a bold show of confidence. It used to be bold to stake out a weekend a year in advance. Now, you have situations like Sony last year nailing down the first weekend of May for an The Amazing Spider-Man sequel. That's May 2018. And that's The Amazing Spider-Man 4.
Fox also just locked down release dates for a Fantastic Four sequel. Never mind that they haven't even begun filming the new reboot.
Of course, it makes sense in regards to superhero sequels, which have been functioning as serials based on comics that have been in steady publication for 50 to 70 years. Those are established properties, particularly the ones associated with the Marvel brand. Divergent is different, calling on a very recent YA sensation to build the foundation for its onscreen universe. While the books are highly circulated, many audience members seeing the trailers or catching the ads on television are seeing Divergent for the first time.
If films are becoming more like television, consider this an echo of the miniseries. Divergent is just the latest Lionsgate property to utilize this aggressive business plan of saturating theaters with product each year. Both Twilight and The Hunger Games were mapped out as franchises, and each told their stories annually before getting out while the getting was good: The Hunger Games: Mockingjay has been split into two films that will be released later this year and in 2015. And then, like Twilight, there will be no more Hunger Games.
This practice keeps the attention of audience members, basically keeping them from looking elsewhere for the same pleasures. It's what led 10 years of Harry Potter films to basically raise a generation, each new installment landing a year after the last, building upon a steadily-escalating story of the boy wizard. Warner Bros. had a multi-billion dollar franchise thanks to Potter, but it only took a couple of years before the studio needed more. Now, there is a 2016 release date for Fantastic Beasts And How To Find Them. The biggest surprise is that the follow-up to that spinoff doesn't also have a sequel scheduled for release.
Of course, maybe the gamble doesn't pay off. Assuming an audience is in place can be a dangerous risk, as the producers of The Mortal Instruments: City Of Bones soon learned. Constantin Films was so high on the $60 million adaptation of the best-selling book that they put in motion the sequel, The Mortal Instruments: City Of Ashes to begin filming only a couple of weeks after the release of the first, with a prequel, The Mortal Instruments: Infernal Devices also in the works. Once City Of Bones debuted to a feeble $9 million, the sequel was canned on the eve of production. A month later, talk sprung up again on the sequel shooting in 2014 given the first picture's $80 million global gross, but the picture was overall a money-loser, and those plans have yet to materialize.
We'll see how well Divergent does before we see follow-ups. The film carries a hefty $85 million budget, and will need robust worldwide success to justify follow-ups. But an opening that's only so-so is going to immediately kill this series: last year, a much more well-known sci-fi property for teens hit screens, and grossed a decent $27 million on its opening weekend. That film was Ender's Game, which comes from a series of very popular sci-fi books. But the movie sputtered afterwards and only collected $112 million worldwide: it's only a few months later and barely anyone remembers it.
If Divergent has a similar profile by the time we're late into 2014, will Lionsgate swallow their pride and sideline the entire affair? With pre-production already moving ahead on a second picture, they seem dead-set on actually making the film, with Robert Schwentke attached to direct. But there is still no start date on actual production. As it turns out, maybe you can plan too far in advance.
Your Daily Blend of Entertainment News
Your Daily Blend of Entertainment News
Thank you for signing up to CinemaBlend. You will receive a verification email shortly.
There was a problem. Please refresh the page and try again.