How Fantastic Four 2 Can Be A Lot Better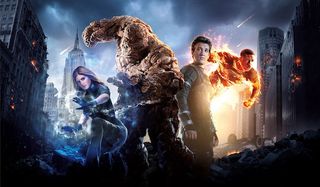 After a seven year absence, the Fantastic Four returned to the big screen last year with a new reboot intended to provide a new beginning for Marvels First Family. Unfortunately for 20th Century Fox, the movie bombed commercially and earned almost universally negative reviews. Months after its release, the studio took Fantastic Four 2 off its July 2017 release date, but producer Simon Kinberg thinks there's still hope for a follow-up. He recently said:
Kinberg reaffirmed wanting to make a Fantastic Four sequel while appearing on the Happy Sad Confused podcast, but whether his wish is realized remains to be seen. There are a lot of obstacles in Fantastic Four 2's way, including Michael B. Jordan, a.k.a. the movie's Johnny Storm/The Human Torch, signing on to 2018's Black Panther. However, let's take an optimistic approach with this quote. Assuming that Fox holds onto the superhero property rather than strike up a deal with Marvel Studios (like Sony did with Spider-Man), we have a few ways that Fantastic Four 2 can be a significant improvement over its predecessor.
A Lighter Tone
Simon Kinberg has already admitted that Fantastic Four's dark tone was a problem, but it's still worth addressing. See, certain characters benefit from a darker move or adding gritty elements, like Batman did in 2005's Batman Begins. The Fantastic Four do not belong in that group. Sure, the stories can often times get serious, and the team has certain been through rough times in the comics over the decades. However, the spirit of their adventures is frequently rooted in light and optimism. The Fantastic Four reboot went in a completely opposite direction, and overall consensus is that's one of the main reasons it suffered. Making a lighter sequel might be caring when comparing to the first movie, but it will produce a more enjoyable experience filled with what a Fantastic Four movie needs: hope and fun. Whether that's accomplished through a new director or a better script, it needs to be a priority.
More Supporting Characters From The Comics
Aside from the superhero team itself and Doctor Doom (more on him in the next section), the only character from the Fantastic Four mythos included in the reboot was Susan and Johnny Storm's father, and now he's dead. Admittedly, because Marvel Studios has most of the Marvel library at their disposal, this leaves Fox with few options, but there are still some supporting characters that could improve this series. The sequel might benefit from introducing Ben Grimm's girlfriend, Alicia Masters, a blind sculptress. Just like in the movies from the 2000s, she could help him come to terms with his monstrous form. Maybe Fantastic Four 2 can find some cool sci-fi way to introduce Reed and Susan's children, Franklin and Valeria, who have their own special abilities. The closer these movies can resemble the comics, the better.
A More Compelling And Faithful Villain
See that guy above? That's not how you properly adapt a comic book villain. This was the third time Doctor Doom has been adapted for a movie (not counting the 1994 Fantastic Four movie that was never publicly released), and aside from a vague resemblance to his comic book counterpart and being intelligent, this version didn't feel at all like the Doctor Doom fans know and love. Toby Kebbell doesn't seem interested in reprising Doom, so at least we probably don't have to worry about him appearing again. Whoever the new villain ends up being, they need to not only have clearer motivations and feel multi-dimensional, but remain faithful to the character. It's fine to take some creative liberties with a character, but when you make so many changes that the villain doesn't remotely resemble their original comic book version, then there's a problem. Personally, I would use someone like Diablo or Annihilus. This series isn't ready for a Galactus redo yet.
Explore The Family Dynamic
Rightfully so, Fantastic Four spent its first half getting the main characters acquainted with one another as they worked on their important experiment. Then came the latter half, where the four protagonists were split up and not fully reunited until right before the climactic battle. For a team nicknamed Marvel's First Family, there was very little "family" outside of Susan, Johnny and their father. It may have worked story-wise for the heroes to be separated from each other for a bit, but when there's barely any time with them growing close to one another after they've gained their powers, then it doesn't feel like a Fantastic Four story. The reboot's ending rectified this somewhat when the team was given their own base, but the sequel needs to take steps to show how the protagonists are becoming an unconventional family in the midst of their adventuring. If you want a good example of how to do a family-themed superhero movie, watch The Incredibles.
Connoisseur of Marvel, DC, Star Wars, John Wick, MonsterVerse and Doctor Who lore. He's aware he looks like Harry Potter and Clark Kent.
Your Daily Blend of Entertainment News
Thank you for signing up to CinemaBlend. You will receive a verification email shortly.
There was a problem. Please refresh the page and try again.