Leonardo DiCaprio's The Revenant Is Filming In A Highly Unusual Way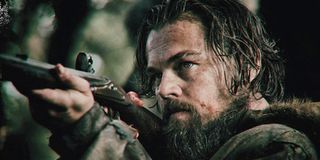 The Revenant, the upcoming ambitious outdoor epic by Birdman director Alejandro González Iñárritu is apparently a really, REALLY difficult shoot. The historical survival/revenge drama starring Leonardo DiCaprio has been shooting for six months in the rather inhospitable Canadian wilderness - but according to the director, it has all been working out as he originally planned. It turns out that his desire to film in extremely remote locations has led him to make the movie in a very unconventional manner: he's filming the movie in very small bits and pieces.
Inarritu recently sat down for an interview with Deadline, which eventually saw the subject shift to The Revenant - a project that sees him constantly flying back and forth to wintery Calgary while he also participates in award season campaigning for Birdman. For the director, his unconventional cinematography and psychology in Birdman has garnered a tremendous amount of momentum, including, notably, some Oscar hopes. However, that film's urban setting could be compared to a luxurious dream in comparison to the snow-ridden woods, nestled far away from any signs of civilization that The Revenant is currently providing the director. The elements have proven to be a formal adversary and has forced Iñárritu into a what will be a 9 month shoot that culminates in either April or May - with shoots chopped into "very small hours," thanks to the extremely limited sunlight. The filmmaker explained,
For all the confidence and momentum on which Iñárritu is currently riding, this shoot definitely has him rattled and thinking he bit off a bit more than he can chew. In a surprising bit of professional candor, the director told the interviewer, "I've gotten myself into trouble again, but I'm trying my best." However, tough-ass shoot aside, Iñárritu remains resolute, and it will be interesting to see what will come out when a historical wilderness story is put through the creative mixer of his artfully unique pathos-heavy palette.
The Revenant will have Leonardo DiCaprio putting on a performance unlike anything we've previously seen from him, playing a dirty, rugged mountain man named Hugh Glass, whose real-life survival ordeal is the stuff of legend. Out with a hunting party, Glass would be attacked by a bear and left for dead by a craven duo (played by Tom Hardy and Will Poulter) who were tasked with either helping him recover or burying him with proper respect. Glass would channel some unprecedented badassery by not only surviving, but making a brutal 200 mile journey across present day South Dakota, sporting gravely gruesome injuries. His motivation for survival? Revenge. Pure and simple. Will he get it? Well, we'll just have to wait and see. It will be like Jeremiah Johnson and the Kill Bill films had a rugged, yet still aesthetically pleasing DiCaprio baby.
Alejandro González Iñárritu's The Revenant looks to reinvent historical drama into deep psychological justice porn when it is set to hit theaters on January 8, 2016.
Your Daily Blend of Entertainment News
Thank you for signing up to CinemaBlend. You will receive a verification email shortly.
There was a problem. Please refresh the page and try again.