How Helen Mirren Feels About Hollywood Preferring To Cast Young Actresses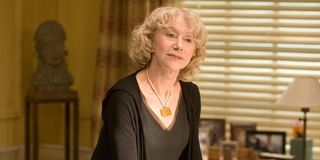 The discussion of Hollywood ageism has been a hot topic among female actresses as of late, especially as older women are losing out on seemingly appropriate roles to much younger actresses. Just last month, Maggie Gyllenhaal was told she was too old at age 37 to play the love interest of a 55-year-old man. Well Dame Helen Mirren is not having that. The critically-acclaimed, established actress put her own two cents in about the subject of Hollywood ageism, calling it "fucking outrageous".
The Wrap held their first Power Women Breakfast in NYC where the Academy Award-winning actress spoke openly about her problems with what the industry has been building towards. In response to the Maggie Gyllenhaal debacle, Mirren had the absolute perfect response, telling The Wrap:
And from a female's perspective, that probably is the best way to describe it, just utterly annoying. Mirren has had her fair share of opportunity, and rightfully so considering her powerful acting chops. But it's not as if we're seeing female versions of James Bond dominating the screen with young men as side characters. We've watched James Bond get older and older, but for some reason the women just get younger. But as is the case with Maggie Gyllenhaal, apparently an 18-year difference is just not enough.
Mirren also goes into the issue of being 'sexual', a term often used in casting females (a main descriptor of those Bond girls, too). While Mirren says she's been lucky, she also reiterated that it still is difficult in this industry, and especially in being a powerful actress. But the award-winning actress sums it up best when she claims that "being powerful is so much more interesting than being beautiful." Something that the consistent ageism seems to forget.
And Mirren certainly isn't the only actress speaking out on the issue. Just a couple months ago Amy Schumer had a segment on her Comedy Central show Inside Amy Schumer where she runs into Tina Fey, Patricia Arquette and Julia Louis-Dreyfus toasting a special occasion, a day they've all become all too aware of in their industry, the day they term the "Last Fuckable Day". Check it out on the next page, it'll give you a good laugh...
Sexism and ageism are certainly hot topics of discussion in the current state of Hollywood. Mirren and company are the first to speak out, and they certainly won't be the last. There's even been studies that prove that female "speaking characters" in films takes a dramatic dip from actresses in their 30's (30%) to actresses in their 40's (17%) whereas male actors actually saw an increase as they crossed that age threshold. Whether or not you agree with Mirren's response to the dilemma, the stats don't lie.
Your Daily Blend of Entertainment News
Thank you for signing up to CinemaBlend. You will receive a verification email shortly.
There was a problem. Please refresh the page and try again.