Joss Whedon Offers Jurassic World An All-Star Non-Apology For Calling It Sexist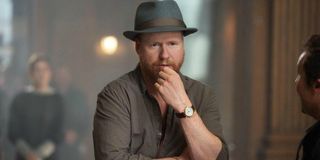 Those of us who have been tickled by Tony Stark's quips and Steve Rogers ignorance of the modern world in The Avengers are well aware that writer and director Joss Whedon is a devilishly funny individual. He uses his Twitter account to share his thoughts with the world, which led to him getting into a spot of bother late last week after he labelled the latest Jurassic World clip sexist. He's now apologised for his remarks … kind of.
Whedon spoke to Variety at the Avengers: Age Of Ultron premiere – an occasion that should have been overwhelmingly positive for the filmmaker since he has only just finished work on the superhero blockbuster. However, his recent remarks regarding the upcoming fourth instalment to the Jurassic Park franchise were always going to be addressed, and Variety was quick to ask for a further comment. "I shouldn't have tweeted it," he admitted. "I don't ever say things about other people's work that are negative. That's bad form. It's not what a gentleman would do."
So far so good from Whedon, who showed some contrition for his unprovoked tweet, which he has since deleted. Would he now go all the way and take back his response to the clip? Not at all. In fact, he simply admitted that the clip made him so frustrated he couldn't help but display his thoughts in the most public of forums. Whedon declared:
For the uninitiated, this entire online jousting match began after a brand spanking new clip for Jurassic World premiered ahead of the 2015 MTV Movie Awards.
Whedon was far from pleased with the interplay between Chris Pratt's Owen Grady and Bryce Dallas Howard's Claire Dearing in the footage. In fact, he was so peeved with what he saw unfold he responded to the Mary Sue's tweet of, "We're too busy fanning ourselves to talk more about Chris Pratt in this #JurassicWorld clip," with the rather fierce, "… and I'm too busy wishing this clip wasn't 70's era sexist. She's a stiff, he's a life-force – really? Still?"
Whether you agree with Joss Whedon's opinion or not, it was nevertheless incredibly shocking to see a filmmaker condemn a rival blockbuster in such an open and degrading manner. It will be interesting to see if his view is compounded when the clip is put into context against the rest of the movie, which we'll discover when Jurassic World is released on June 12. You can expect Joss Whedon to be asked about it at least a dozen more times before then.
Your Daily Blend of Entertainment News
Your Daily Blend of Entertainment News
Thank you for signing up to CinemaBlend. You will receive a verification email shortly.
There was a problem. Please refresh the page and try again.