How James Franco Inspired Tim Blake Nelson's Anesthesia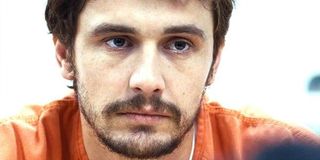 It's easy to forget that James Franco is a quietly prolific filmmaker. Over the last decade or so, Franco has directed nine films, while he currently has five more in the pipeline. Tim Blake Nelson has now starred, or will star, in five of these films, and he admits that James Franco's relentless approach to filmmaking inspired his own pursuits on his latest, Anesthesia, which the O Brother, Where Art Thou? actor wrote and directed.
I had the chance to chat with Tim Blake Nelson earlier this week about Anesthesia, during which he talked about how James Franco had been a huge personal influence on simply getting the film written, shot, and out there. Nelson said:
Tim Blake Nelson has worked together with James Franco on a number of the Spider-Man 3 and This Is The End star's projects, including Leave Of Grass, Child Of God, and As I Lay Dying, while he'll also appear in the upcoming Bukowski and The Long Home.
While a number of James Franco's films have been met with largely negative reviews, the actor's directorial efforts have been getting steadily better critical responses. Sure, they've not been overwhelmingly popular, but there has clearly been improvement and growth as a filmmaker.
2011's Sal premiered at the Venice Film Festival, and 2013's As I Lay Dying was screened in the Un Certain Regard Section at the Cannes Film Festival. There's also a healthy amount of excitement for the impending Bukowski, Zeroville, In Dubious Battle, and The Disaster Artist, the latter of which revolves around the shooting of The Room, widely regarded to be the worst film ever released.
Meanwhile, Anesthesia marks Tim Blake Nelson's fifth film as a writer and director, and it revolves around the days leading up to the mugging of Sam Waterston's Professor Walter Zarrow, and how the people involved in the incident are connected. It's a subtly affecting drama that slowly builds and is buoyed by fantastic performances.
It also helps that it has an absolutely top-notch cast, with Sam Waterston being joined by Tim Blake Nelson himself, as well as Kristen Stewart, Corey Stoll, Gretchen Mol, Michael Kenneth Williams, and Glenn Close. Anesthesia premiered at the Tribeca Film Festival last April, where it was met with mostly positively reviews, and it finally hits cinemas on Friday.
Your Daily Blend of Entertainment News
Thank you for signing up to CinemaBlend. You will receive a verification email shortly.
There was a problem. Please refresh the page and try again.