How Kylo Ren Compares To General Hux In Star Wars: The Force Awakens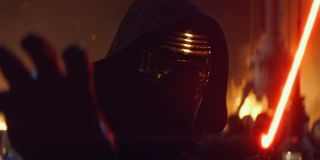 With Star Wars: The Force Awakens news arriving by the bucket-load over the last few days it's almost impossible to keep track of what we've learned regarding the seventh instalment of the franchise. While that's true for the returning characters and the new heroes, the same hasn't really been the case for The Force Awakens' villains, but now Domhnall Gleeson revealed further details about General Hux and Kylo Ren, including how they're both incredibly evil, just in very different ways.
So, in Star Wars: The Force Awakens, Domhnall Gleeson's General Hux is one of the military leaders of The First Order, the remaining remnant of the Imperial army, while Adam Driver's Kylo Ren is an enforcer, who has a slight obsession with Darth Vader. Slight being a huge understatement. You probably assumed that this means Kylo Ren and General Hux are close pals who have bonded over the mantra of, "The enemy of my enemy is my friend." According to Domhnall Gleeson that is far from the case, with the actor revealing to Entertainment Weekly just how disparate the two actually are. Gleeson explained:
That's good to know, but what else did Gleeson have to say about General Hux? Well, the Irish actor threw out the word "ruthless" to describe him, before adding that he has "an air of superiority" as well as being a "strong disciplinarian." Rather than going around zapping people down with lightsabers, General Hux doesn't dirty himself with such murderous activities, instead getting other people to do this work for him.
Meanwhile, Domhnall Gleeson even tried to provide some psychological reason behind General Hux's cretinous ways, suggesting that his villany grew because of "the fear of individuality." What does that mean exactly? Well, Gleeson immediately added:
I have to admit that while I am so overwhelmingly excited for Star Wars: The Force Awakens it's a miracle I don't wet my pants every time I think about it, the one, slight, totally miniscule issue I kind of have with the film is its villains. This is probably only because we've seen so little of them so far and don't know much about them.
The line of dialogue in the trailer where Kylo Ren insists that he is going to "finish what [Darth Vader] started" only added to my trepidation because it's such a flimsy excuse. However, I remain convinced that these slight apprehension will disappear as soon as I watch Star Wars: The Force Awakens. And that's mostly because Abrams' decision to cast Domhnall Gleeson, Adam Driver, Andy Serkis, and Gwendoline Christie in these villainous roles seems pitch perfect.
We'll find out just how perfect they are when Star Wars: The Force Awakens is released in slightly over a month's time on December 18.
Your Daily Blend of Entertainment News