Star Wars 7 Is Giving Us A Female Stormtrooper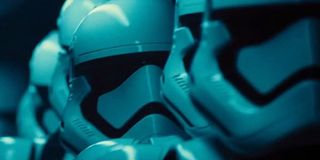 Star Wars: The Force Awakens has constantly kept us hungry for more and more details about the films, and the debut trailer that popped online a few months back only increased our appetite. We still desperately want to know what all the classic characters have been up to and how the new ones fit in, but we also enjoy the little things. For example. the latest rumor about the film seems to suggest that a certain glass ceiling within the ranks of the Empire will be shattered with the notoriously-inaccurate marksmanship of a Stormtrooper blast.
According to BBC journalist Lizo Mzimba on Twitter, a relatively unknown actress named Amybeth Hargreaves will be playing a female Stormtrooper in Star Wars: The Force Awakens. No further details were given, but it was an oddly specific enough of a casting call that the unconfirmed claim has been making waves on the internet:
The beautiful 30 year-old London-based Hargreaves doesn't have much of a resume (or, even an IMDb account), and besides various commercials and a music video, according to Spotlight, she only has one proper film credit to speak of - a 2012 project called The Martyrs. If that sounds like a somewhat weak resume, it could be because she may be only performing as a double in Star Wars: The Force Awakens. Following up his first Tweet, Lizo Mzimba added that the actress may actually be connected to the project through confirmed star Gwendoline Christie:
It's worth noting that Amybeth Hargreaves is listed as being six feet tall - which is rather tall for a woman - but she's still a bit shorter than the six foot three inches Game of Thrones actress. Still, one can't rule out that that the unknown actress was on set in that capacity. Nevertheless, the idea of her playing a female Stormtrooper nevertheless remains an intriguing possibility.
In the Star Wars Prequel Trilogy, it was, of course, established that the Stormtroopers were originally clones of bounty hunter, Jango Fett, whose D.N.A. template was specifically chosen for combat and battlefield cunning. However, going back to the Original Trilogy, it's hard not to notice that the army that would be portrayed in the prequels as a sublime legion of genetic war machines had somewhat lost their edge. (To put things kindly.) That being said, the fact that John Boyega's character has seen wearing a Stormtrooper outfit supports the idea that Episode VII's batch of troopers are not just a bunch of watered-down Jangos, and instead that at some point the Empire stopped relying on clones and simply began enlisting civilians as Stormtroopers.
Has the new Galactic Empire taken to gender equality measures in its lackey-hiring process? We shall certainly find out when Episode VII hits theaters on December 18th.
Your Daily Blend of Entertainment News
Thank you for signing up to CinemaBlend. You will receive a verification email shortly.
There was a problem. Please refresh the page and try again.