How's That Muppet Movie Going, Nick Stoller?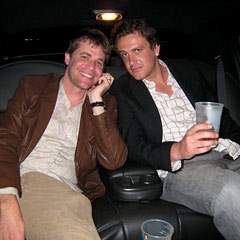 Nicholas Stoller has so many projects going on right now, you can kind of just pick the one you're most excited about. And as much as I'm looking forward to a Guillver's Travels remake starring Jack Black, and Russell Brand's reprise of the character Aldous Snow in Get Him to the Greek, what I'm really, really excited about is Stoller and Jason Segel's screenplay for a new Muppet movie.
So Collider therefore read my mind, and asked Stoller about this project (along all the others) when they got him on the phone to promote Yes Man (he's one of the three screenwriters on the movie). Stoller said that he and buddy Segel have turned their first screenplay into Disney, and they're waiting to hear what the head honchos think. "We love our draft. We loved the Muppet movies, you know? We're just trying to recreate the classic, you know, Muppet movies and waiting to hear back from Disney."
But even though Stoller cut his teeth as a director on Forgetting Sarah Marshall, which included a number of Muppet-inspired puppets, he won't head that direction again with the actual Kermit and Miss Piggy. " I love the Muppets but I think you need someone who's really good with--even though I did a little bit of puppetry in Sarah Marshall—you need like someone who has a lot of experience with that." He continued later, "I like people chatting on a beach in Hawaii. That's what I'm comfortable with."
You can check out the rest of Collider's interview for even more information on Stoller's projects. Personally I've got so much hope for the Muppet movie that I'm not really ready to hear anything negative yet, but still, I'm pretty excited about this one. Just check out the embed below, from Forgetting Sarah Marshall, if you need me to explain why.
Your Daily Blend of Entertainment News
Staff Writer at CinemaBlend