How To Pronounce David Oyelowo, A Video Lesson From Brad Pitt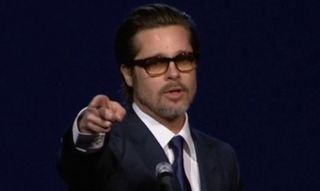 With award season upon us, it's time to take a look back at the year and honor some of the actors that broke out in the industry. And among those is David Oyelowo, whose incredible performance as Martin Luther King Jr. in Selma has scored him a Golden Globe nomination. Along with the nomination comes more recognition, so Brad Pitt wants to make sure everyone is pronouncing Oyelowo's name correctly. Watch his lesson on the subject below.
The clip, courtesy of The Telegraph, shows Brad Pitt at the Palm Springs International Film Festival awards gala. Pitt was a producer on Selma so he wasn't there to win any awards, but it didn't stop him from stealing the show. Pitt decided to take the time to teach the crowd an important lesson during his introduction for David Oyelowo. Oyelowo, a name that will surely be repeated often during the current awards season, may not roll off the tongue so easily. So Pitt shared his own way of learning the pronunciation, by song.
Though, I'm not too sure the name is as difficult to sound as Pitt claims it to be. But his singalong is endearing, and appropriate considering everyone should get very familiar with Oyelowo's name. Oyelowo recently received a Golden Globe nomination for Best Actor for a Motion Picture Drama. During Pitt's speech he begins his introduction to Oyelowo stating:
It's a challenging role to pursue, but Oyelowo's performance as Dr. Martin Luther King Jr was impressive in the epic drama, Selma. The inspirational film has been one of the most critically acclaimed films of the year. It's an important historical story of Dr. King's dangerous campaign march to secure equal voting rights in the face of a very violent opposition, along with Oyelowo as it's lead, the story proves even more powerful.
And while this is Oyelowo's first major role in a film, he is familiar with powerful stories playing supporting roles in films such as Lincoln and The Butler. The British actor has also played supporting roles in Rise of the Planet of the Apes and Middle of Nowhere. He began his career on stage at the Royal Shakespeare Company, later moved to television and film. His role in Selma was his first opportunity to really show the depth of his acting, and it proved him to be a sensational force. Whether or not Oyelowo wins Best Actor, his performance has paved a path to many more opportunities to come. And we look forward to seeing all Oyelowo brings us in the future, with a special thanks to Brad Pitt for helping us get the actor's name right.
Your Daily Blend of Entertainment News
Thank you for signing up to CinemaBlend. You will receive a verification email shortly.
There was a problem. Please refresh the page and try again.