How Roger Ebert's Wife Feels About His Documentary Getting Snubbed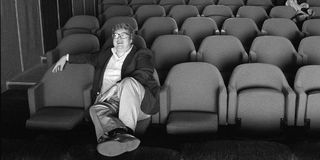 One of the most heinous Oscars snubs of 2015 came in the shape of Life Itself, which failed to gain recognition in the best documentary category. Life Itself revolves around the life and death of Roger Ebert, the renowned Chicagoan film critic whose cinematic legacy was perfectly honored with Steve James' intimate portrait.
Chaz Ebert, Roger Ebert's widow, has now taken to her husband's website to voice her feelings on Life Itself's omission from the ceremony. Chaz Ebert admitted that while she was "sad and disappointed" by its lack of recognition, she still takes huge comfort from the knowledge that anyone who has had the privilege of watching Life Itself "knows what an achievement it is." And she's right. Life Itself is truly a joyful film that doesn't shy away from showing an ailing Roger Ebert on the brink of death, but also celebrates the passion, fervour and deep love that he had for all things cinema.
Anyone who knew of Roger Ebert before seeing Life Itself will come out of it feeling as though they have a deeper understanding of what made the man tick. Meanwhile anyone who watches the documentary without any prior knowledge of the film critic will resonate with its raw look at a man on the brink of death, while they'll also see how much of an impact a film critic can have when they do their job perfectly.
Chaz Ebert continued her praise of Life Itself by eulogizing director Steve James, while also stating:
You can read Chaz Ebert's sensational diatribe regarding Life Itself by clicking over to Roger Ebert's official website. It will truly be one of the best things that you do all weekend. Plus, you'll find it hard not to shed a tear at her description of both her husband and the film itself.
Meanwhile, despite the omission of Life Itself, Chaz Ebert also made sure praise the documentary films that were recognized in the field. Those lucky enough to have been included were Citizenfour, Finding Vivian Maier, Last Days in Vietnam, Virunga and The Salt of the Earth. In a rather ironic turn of events, Finding Vivian Maier was actually co-directed by Charlie Siskel, who is the nephew of Gene Siskel, the film critic who appeared alongside Roger Ebert in their seminal review show, Siskel & Ebert.
Chaz Ebert did criticize the Academy's decision to exclude Selma's Ava DuVernay in the best directing field though. Which goes to show that even though Roger Ebert is now resting in peace, his devoted wife is doing her hardest to continue his good work here on earth.
Your Daily Blend of Entertainment News
Thank you for signing up to CinemaBlend. You will receive a verification email shortly.
There was a problem. Please refresh the page and try again.