How Sony Apologized To Kevin Hart For Calling Him A Whore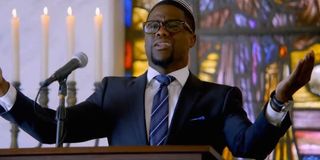 One of the most outrageous leaks from the already-infamous Sony hacking last month was the revelation of an email written by Screen Gems President Clint Culpepper calling Kevin Hart a "whore." That drama hung in the air for a while, but now Kevin Hart has now admitted that Culpepper instantly apologized to the comedian for the remarks as soon as they became public. That being said, he insists that Culpepper's apology wasn't actually necessary.
During an extensive chat with The Hollywood Reporter to promote The Wedding Ringer, Kevin Hart touched upon a number of subjects, however, with the Sony hacking scandal still so fresh in the public consciousness, he took this opportunity to diffuse the furor. It's been over a month since Clint Culpepper's comments were released, and Hart admitted that his alleged adversary phoned him and apologized immediately. he also added, though, that he never wanted to confront Clint Culpepper over the messages. Instead, he was fully aware that is just the way he talks.
This whole situation first began following the Sony hack and the reveal of an email from Clint Culpepper to a colleague about a negotiation he was having with Kevin Hart. The comedian/actor wanted an increase in his salary because of the all the personal promotion for his projects he was doing through social media, and it was because of this that Culpepper decided to call him the aforementioned dirty word. Hart did react to the comments shortly after the leak, posting a message to his personal Instagram saying in part, "I worked very hard to get where I am today. I look at myself as a brand and because of that I will never allow myself to be taken advantage of."
Reading through the interview, Kevin Hart seems rather calm about the situation. He explained that he understands these are the kind of remarks that are made when studios and actors are negotiating. Plus, at the moment, he is probably simply too damn happy with his life and career to be affected by gossipy comments. "Nothing affected me," Hart told THR. "It's very hard to put me in a negative position, man. I'm happy. And I'll continue to be happy."
It's hard to imagine that the perpetually happy actor and stand-up comedian is ever actually sad. Watching him perform, I reckon he even laughs in his sleep. Those of you who have seen his appearance in Jerry Seinfeld's Comedians In Cars Getting Coffee web-series will second this notion. If you haven't then you should click on this link instantly. It will cure any Wednesday blues that you're feeling.
It seems now that any and all bad blood has been cast aside, as Kevin Hart has returned to his promotional duties like a pro ahead of the release of Screen Gems' The Wedding Ringer. Look for it in theaters on January 16th.
Your Daily Blend of Entertainment News
Thank you for signing up to CinemaBlend. You will receive a verification email shortly.
There was a problem. Please refresh the page and try again.