How To Train Your Dragon 2 Wants To Be This Generation's Empire Strikes Back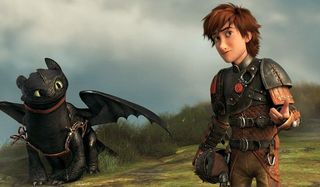 When DreamWorks Animation's How To Train Your Dragon was released back in 2010, it exploded around the world like a ball of dragon's breath. Not only did the movie completely stun critics – eventually leading to two Academy Award nominations – it also was a monster hit at the global box office, ultimately pulling in nearly $500 million. It was shortly thereafter that a sequel was announced, but it's only this weekend that the film is finally coming to theaters. It's been a long, fascinating road for the movie to get made, and we recently got to learn all about it.
In advance of How To Train Your Dragon 2's release date, 20th Century Fox invited a group of film reporters to DreamWorks Animation Studios where we not only had the chance to sit down for an extended chat with director Dean DuBlois, but also tour around the facility. We learned multiple fascinating things about the new movie throughout the day, so read on to learn all about it!
The Empire Strikes Back Had A Very Important Influence
As far as blockbuster sequels go, there are few out there better than Star Wars Episode V: The Empire Strikes Back. As a follow up to the biggest science-ficition hit in history, the movie was under immense pressure to live up the original, and it succeeded by advancing its main characters and the entire universe in new and interesting ways. Wanting to create something as special and amazing as Empire Strikes Back has been the goal of many a filmmaker embarking on a sequel, and Dean DuBlois was no different in approaching How To Train Your Dragon 2.
Discussing his approach to mature themes while also being sure to make the animated movie age-appropriate for young kids, DuBlois told us that the first Star Wars sequel was something that had a very profound effect on him at a young age, and that it was that theatrical experience he was hoping to possibly recreate with his latest film.
"I never second guess an audience," DuBlois explained. "That's my thing. I try to make the movie that I want to see, that I would have loved to see when I was 10 and that I would love to see now. There are examples of movies out there like that and for me, The Empire Strikes Back was the ultimate one. That was the best sequel I could think of, but it spoke to such a broad audience and I think that's what we're doing here. We're trying to make a true four quadrant movie that speaks to the adults as much as the youngsters."
Going further, the writer/director explained that looking at How To Train Your Dragon 2 as simply a kids movie would actually be a mistake, and instead that it's a movie that audiences of all ages will be able to get something meaningful from.
"We always try to entertain everyone in the audience, but not alienate or leave behind the kids, and I think an aspirational hero is a big part of that.
Anything Can Be Done In Animation Now, And Dragon 2 Proves It
The world of animation opens up an endless number of possibilities, but actually making those possibilities a reality properly has still been an extreme challenge when it comes to CGI. Artists and software developers have spent years and years trying to find ways to make things like hair and water appear more textured and real, and as a result filmmakers of the past have been handcuffed when it comes to animating certain things – especially if the budget isn't up to snuff. In his initial approach to How To Train Your Dragon 2, however, DeBlois didn't allow possible animation limitations affect his storytelling. And that turned out to be the smartest move he could have made.
As was explained to us while touring the facilities as DreamWorks Animation and visiting the various departments, How To Train Your Dragon 2 was the first film developed by the studio using a new kind of software called Apollo that facilitated the animation process unlike anything the world has ever really seen before. A result of this – as DuBlois explained to us – was that all of his big initial dreams were eventually realized in full form as the movie moved through production. Said the filmmaker,
One can only imagine how far the technology will take us in the future.
A Chance Encounter Led Cate Blanchett To The Film
Surely there are hundreds of scripts written every year that have Cate Blanchett in mind to play a key role, but what percentage of those projects do you think she actually took part in? Considering how she rarely makes more than one or two projects per year, a guess of less than 1% would probably be about accurate. While the odds may not have been in his favor, this didn't stop Dean DuBlois from always considering her for the role of Valka, Hiccup's mom, in How To Train Your Dragon 2, and there's a funny story behind how she actually ended up signing on for the film.
Said DuBlois, "I absolutely had Cate in mind, because when I'm thinking about this character, she's a Diana Fosse, Jane Goodall-type character who's been cut off from humanity, living among these animals. So I knew that she needed to have a certain fragility to her and some sort of emotional regret as well… She needed to be commanding and protective and authoritative and Cate's one of the few actresses that comes to mind to me that can play that broad range."
Clearly the writer/director knew exactly what he wanted from the actress portraying the role, but rather than going through agencies or representation, DuBlois instead pitched Cate Blanchett on the part while at a cocktail reception before The Academy Awards. Fortunately, she was very open to the idea thanks to a strong familiarity to the first movie.
"I walked over to her and I told her I'd written a part for her in How to Train Your Dragon 2 and she said, 'It just turns out that the first movie is a huge hit in my household. My three boys love it.' She asked me about the character and I told her a little bit about it and immediately it started to blossom in her mind and there in her hair and beautiful gown she started adopting the mannerisms of a woman who might be living among dragons. And she said, 'I'm not doing anything, send me the script,' and that was that!"
How lucky can one guy get on one movie?
Kit Harrington's Performance Had To Be Reeled In A Couple Of Times
Those who are familiar with actor Kit Harrington will have no problem understanding how he landed the role of the new character Eret, a dragon hunter, in How To Train Your Dragon 2. After all, most recognize the star from his part as Jon Snow on HBO's Game of Thrones, a show set in yet another fantastical world populated by giant lizard-like flying beasts. But while fans won't have to make much of an adjustment to hearing Harrington in the animated sequel, the actor did have to make a few adjustments to his performance while in the studio recording.
DuBlois was not shy talking about his appreciation for Harrington, and how Game of Thrones played a massive influence in the actor getting the part in How To Train Your Dragon 2, describing Jon Snow as his favorite character. The director was delighted by the particular energy that the actor brought to the role, saying that the star has both a certain vulnerability and a nobility to him that few could bring to the Eret role. What he did not expect, however, was that Harrington would be so into the part that DuBlois would actually have to rein him in at times. Said DuBlois,
So when you go to see How To Train Your Dragon 2 and note how boisterous and brash Eret is while facing down Hiccup and Astrid, just think of how much more intense the performance could have been.
Your Daily Blend of Entertainment News
Assistant Managing Editor
NJ native who calls LA home and lives in a Dreamatorium. A decade-plus CinemaBlend veteran who is endlessly enthusiastic about the career he's dreamt of since seventh grade.