How To Train Your Dragon To Get Rid Of The Dragons?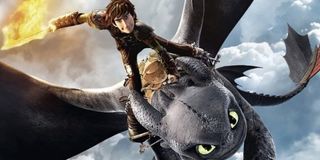 The How To Train Your Dragon series has been one of the most surprising franchises of the animated genre in recent years. Not much was expected of its first outing back in 2010, but it managed to enthrall viewers with its passionately cheery disposition that was packed to the brim with action and comedy. Because of this, Dreamworks ordered a full trilogy of films. How To Train Your Dragon 2 only enhanced the franchise's reputation by building on the tone of the original - but the recent revelation that How To Train Your Dragon 3 will explore why there aren't any more dragons in Birk suggests that the series is about to be mixed up by omitting the titular creatures.
During a chat with Collider, Dean DeBlois, who co-wrote and co-directed the original and then wrote and directed the sequel on his own, declared that the third film will delve deeper into the character of Toothless, as well as the history of his species.
As DeBlois notes, in the eleven book series that the films are loosely based upon it is stated that the dragons no longer exist. However, it looks as though the filmmaker is prepared to deviate from the novels in order to ask why they are no longer in the Viking world. While this might make fans of the novels rightly nervous, DeBlois has not only proven that he is well versed in How To Train Your Dragon's style, but he has also shown that he is able to complement the source material perfectly with his own vision for the films and its characters.
Plus there's no need to worry just yet anyway. This is still very early on in How To Train Your Dragon 3's development. In fact DeBlois - who admitted that he has been able to talk Dreamworks' Jeffrey Katzenberg "down" from a fourth installment to the franchise and is currently just focused on what he believes will be the concluding saga to the trilogy - only presented his outline last week.
There's every chance that DeBlois could decide that there isn't enough to explore regarding the demise of the dragons. But if he decides there is, his success on the previous two films means that I'll be excited to see what he shows us.
Your Daily Blend of Entertainment News
Thank you for signing up to CinemaBlend. You will receive a verification email shortly.
There was a problem. Please refresh the page and try again.