How Universal's Monster-Movie Shared Universe Will Differ From Marvel's Superhero World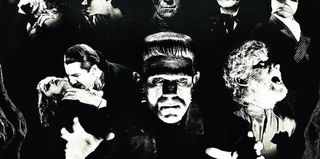 With the wild success of Marvel's expansive cinematic superhero universe, damn near every studio wants to follow that lucrative model. Universal has a plan for their own shared world with an upcoming slate based on their classic monster movies, but while similar in some regards, their idea has significant differences from the Marvel roadmap.
While discussing the studio's recent box office success—blockbuster movies like Furious 7 and Fifty Shades of Grey starting their 2015 off with a bang—Universal chair Donna Langley shed a little light on their approach, telling The Hollywood Reporter:
The aim to paint a world full of greys certainly fits with the classic template. Rarely are the classic Universal creatures wholly evil; there's the capacity for good and bad inherent in all of them. For instance, Frankenstein's Monster is often depicted as a kind of simple, gentle giant, unaware of its own power, only resulting to violence when cornered, threatened, or frightened. By now that scene where Karloff's incarnation of the creature befriends that little girl has become iconic, showing off a gentler, less destructive side.
Some purists may have an issue with the "more action than horror" remark, but that certainly seems to be what they're aiming for, and hell, if they capture even a fraction of the high adventure and wonder of Steven Spielberg, that's not exactly a bad thing. However, that isn't all that different from what Marvel is doing, just look at Guardians of the Galaxy. That film bears a heavy Spielberg influence, and with a crew of heroes that include a thief, an assassin, and various other space outlaws, there's some serious shading going on.
Last year's Luke Evans vehicle, Dracula Untold, is reportedly the first piece of Universal's new, interconnected cinematic world, but we're going to have to wait longer than expected to get more. Though the studio has hired the likes of Noah Hawley (TV's Fargo), Ed Solomon (Men in Black), and Aaron Guzikowski (Prisoners), as well as Chris Morgan and Alex Kurtzman—a gang of screenwriters dubbed the "Monster Men"—to create an interlocking universe, they've delayed the next wave.
A reboot of The Mummy was originally supposed to kick things off in earnest, slated for a June 24, 2016 release, but that was recently pushed back to March 24, 2017. Another, as yet untitled Universal monster movie, also saw its street date moved from April 21, 2017 to March 30, 2018. We'll see what impact these postponements have on Universal's plans, but hopefully the extra time just means that they're committed to making the best movies they possibly can and that these new monster flicks will turn out to be awesome.
Your Daily Blend of Entertainment News