How The Wolverine Is A Western Set In Japan, Inspired By Clint Eastwood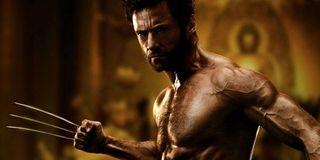 We've said it before, but it bears repeating: the Western and the Samurai movie are two sides of the same coin. No one is having to say this more right now than The Wolverine director James Mangold, who admits readily that his latest Logan tale borrows heavily from influences from East and West. Set in modern-day Japan, The Wolverine stars Hugh Jackman as the titular outsider who is a modern cowboy or ronin—depending on your point of view—as he battles against a mysterious foe to do right by an old friend's last wish.
Over the course of a press conference for The Wolverine, Mangold and Jackman, the film's star and producer, spoke at length about the film's inspirations. Of course, there was the source material of Wolverine comics by Chris Claremont and Frank Miller. But then there were the more intriguing blend of Western and Samurai movies. For Mangold the idea of an outside, a lone man, was key to building on Wolverine's pre-existing story:
Mangold knew early on which Western in particular he wanted to emulate, Jackman remembers:
Also important to its filmmakers was getting the depiction of Japan right. Mangold counts himself as a huge fan of Japanese movies, and wanted to fold elements of samurai movies, Yakuzi crime dramas, fantasy films, historical drama and Westerns in together. But how to do all that and make Japan seem a grounded setting--especially as a foreigner who admittedly didn't know Japan personally? Mangold turned to one of his idols:
He went on to explain he used Yasujirô Ozu's movies to guide him in his location scouting, and hopes fans will notice the particular influence of Tokyo Story on Wolverine's journey in the film. But also key to The Wolverine's distinct portrait of Japan was its Japanese cast that included Hiroyuki Sanada, Rila Fukushima and Tao Okamoto. Mangold explains why their input proved priceless:
Sanada, who is a major star in Japan with more than 60 films to his credit, says the respect and admiration was mutual, offering:
As sometimes happens, the press conference was a love fest with compliments being shared back and forth. But Jackman made it a point to give the press an insight into just how generous Sanada really was with his time:
The Wolverine opens Friday.
Staff writer at CinemaBlend.
Your Daily Blend of Entertainment News
Thank you for signing up to CinemaBlend. You will receive a verification email shortly.
There was a problem. Please refresh the page and try again.