How Zach Galifianakis Really Feels About The Hangover Sequels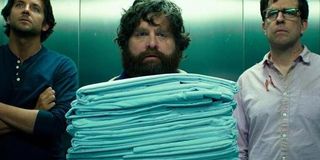 If you're looking for the archetypal Hollywood trilogy trajectory then The Hangover franchise is perfect. The original comedy is one of the finest examples of mainstream comedy in years. It has an ingenious premise, constantly keeps you hooked by its plotting, and is riotously funny. This momentum immediately ground to halt with the sequel, while the third film was just plain awful. And it turns out that Zach Galifianakis knows that The Hangover Part 2 and The Hangover Part 3 don't match the quality of the original. In fact, he admitted that he wishes they'd only done one.
Zach Galifianakis, whose career absolutely sky-rocketed because of his performance as Alan in the 2009 original, made this admission during his appearance on WTF With Marc Maron. Galifianakis is currently doing the rounds to promote his quirky FX comedy, Baskets, but that didn't stop him talking about his past. Which led him to make this admission about The Hangover sequels.
A quick look over at Rotten Tomatoes suggests that the critical consensus agrees with Zach Galifianakis' assessment. The Hangover currently has a 79% rating over on the website, which is hardly surprising considering just how many genuinely laugh out loud moments the bombastic comedy includes.
The ratings take a sharp turn for the worse when it comes to the sequels. The Hangover Part 2 only has a 34% rating, while things get even worse with The Hangover Part 3, as it has just 19%. And those of you that have seen these instalments can probably testify just how poor both films are in comparison to the original.
But the good folks over at Warner Bros. Pictures would probably disagree with Zach Galifianakis' viewpoint that The Hangover Part 2 and Part 3 shouldn't ever have seen the light of day. While The Hangover grossed $467.5 million, the follow-up eclipsed this mammoth total by raking in a further $586.8 million. Sure, The Hangover 3 didn't quite reach any of these totals, but its haul of $362 million was still a very healthy effort.
Plus, the success of these further follow-ups helped to cement Zach Galifianakis' reputation as one of the most dangerous comedy talents in American cinema. While he felt honest enough to admit that The Hangover 2 and 3 weren't quite up to par, it should also be noted that his other comedies, The Campaign, Due Date, and Dinner For Schmucks, suffered similar fates. Hopefully the comedies Masterminds and Keeping Up With The Joneses, both of which are due out this year, will help to finally correct this slide.
Your Daily Blend of Entertainment News
Thank you for signing up to CinemaBlend. You will receive a verification email shortly.
There was a problem. Please refresh the page and try again.