Huge Sex And The City 2 Spoiler?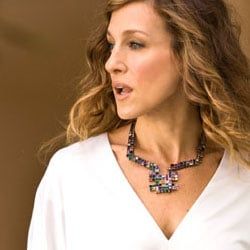 So we've gotten images and even a poster for Sex and the City 2, but what no one seems to have seen is a proper plot synopsis for the much anticipated gal pal sequel. Some have speculated that it could be about a Carrie pregnancy, but the celeb hounds at Gossip Cop have other ideas.
Stop reading if you're not interested in spoilers. This could be a big one.
According to their sources, the movie may involve infidelity. They say Carrie Bradshaw's former flame, Aidan Shaw, is in the movie and "he and Carrie have an indiscretion." Let me translate for those of you who can't afford two-hundred dollar shoes. That means she cheats on her husband, a certain Mr. Big. That "indiscretion" leads to what they're calling "a BIG move on the part of Mr. Big." A big move out of the house perhaps?
If true, is this really the right direction to go with the franchise? The first movie was all about getting Carrie and big married, to break them up in the following movie seems sort of like shooting yourself in the foot. Doesn't that nullify all the trouble we went through in the first film? At least they wouldn't be going with the cliché pregnancy storyline, but there has to be a better alternative out there. I'm still holding out for Menopause: The Movie.
Your Daily Blend of Entertainment News