Hulk's Actual Status At Marvel Studios Revealed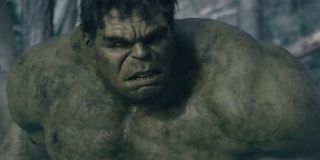 A couple months ago, actor Mark Ruffalo offered what seemed like a logical explanation for why Marvel Studios doesn't have plans for a second Hulk standalone movie. He told reporters that the studio didn't actually have the full rights to the character, calling Hulk "Universal's property," and that's what was preventing the company from creating a new project. As it turns out, Ruffalo was mistaken, and the details of the Marvel deal with Universal are actually much less strict than he suggested.
Forbes has published an extensive article about the future of Hulk at Marvel Studios, and in the article it's explained that Marvel Studios actually does have the full rights to make an Incredible Hulk sequel. According to the report, Universal Pictures' ownership of the comic book hero lapsed in 2005 when the studio failed to make any headway creating a sequel to Ang Lee's 2003 Hulk movie. The catch is that Universal still retains the right of first refusal when it comes to distributing any future projects about the giant green monster - but Marvel currently does have the capability to make sequels about the character.
As for exactly why Marvel Studios doesn't have any plans on the books to make a new Hulk film, Forbes suggests that it's mostly about narrative challenges and risk and reward from a financial standpoint - suggesting that demand for a sequel potentially doesn't outweigh the costs of a production - but I wonder if it's perhaps even simpler than that. While Mark Ruffalo may have been wrong in saying that Marvel doesn't have the rights to Hulk, it's possible that the distribution element is still what's holding up production. After all, the comic book giant is owned by Disney, and it can't be in the parent company's best interest to help make movies that will be released by a rival studio.
As the Avengers movies have shown us, however, there is a loophole when it comes to Universal's control of Hulk's distribution rights. It seems that Marvel Studios has the full ability to use the character, and have Disney distribute the movies he's in, so long as his the character's name isn't in the title. It's entirely possible that Marvel could try and exploit this fact by making Mark Ruffalo's Bruce Banner/Hulk the supporting character in one of the studio's upcoming Phase 3 movies - but the big question that comes up is which one could be chosen (my fingers are definitely crossed for Doctor Strange).
Given these details, what future do you want to see for Hulk in the Marvel Cinematic Universe? Do you think he should be saved for special event films, or do you really think he deserves another shot at his own solo film?
Watch the Hulk and Black Widow's Avengers 2 Lullaby scene on the next page...
Assistant Managing Editor
NJ native who calls LA home and lives in a Dreamatorium. A decade-plus CinemaBlend veteran who is endlessly enthusiastic about the career he's dreamt of since seventh grade.
Your Daily Blend of Entertainment News
Thank you for signing up to CinemaBlend. You will receive a verification email shortly.
There was a problem. Please refresh the page and try again.